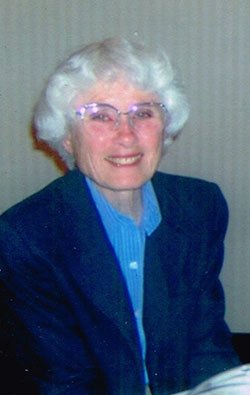 Patricia A. Kindred
The Dalles, Ore.
August 19, 1928 - January 31, 2013
Patricia A. Southmayd Kindred, 84, died Jan. 31, 2013, in The Dalles, Ore.
She was born Aug. 19, 1928, in Grants Pass, Ore., to Leslie E. Southmayd and Venice Winnop Southmayd. The family moved to Coos Bay, Ore., where she attended school, graduating from Marshfield High School in 1946.
On Feb. 15, 1947, she married Vernon Kindred, also of Coos Bay. They built a home and had two children, Randy, born in 1948 and Kay, born in 1954.
She was a homemaker, watercolor artist, gardener, bridge player and seamstress but most of all wife and mother. She and her husband enjoyed years of playing golf and tennis together as well as snow skiing at Mt. Bachelor.
She was widowed in April 2005 after 58 years of marriage. She continued to live in Coos Bay surrounded by longtime friends and family members until 2011 when she relocated to The Dalles to be near family.
She is survived by her son, Randy Kindred and wife Julie, St. Louis, Mo.; daughter Kay Kindred Skov and husband Randy, The Dalles; grandchildren Jennifer Kindred and husband Scott Colgan, Los Gatos, Calif., Kimberly Kindred, Ashland, Ore.; Kelia Kindred Gutierrez, Bartlesville, Okla.; Mollie Skov, Stamford, Ct.; Julie Skov, The Dalles; and Riley Skov, The Dalles; great-grandchildren Kimaya Gutierrez, Rose and Ruby Colgan; brother-in-law Everett Kindred, Coos Bay; nieces Susan Marker Johnson, Lynne Kindred Moehl, nephew Jim Kindred, and their families.
She was preceded in death by her parents, husband, sister Dolores Southmayd Stone, and sister-in-law Esther Kindred Marker.
A family gathering to celebrate her life will be held at a later date.
Memorial contributions may be made to The Dalles Art Association, 220 East Fourth, The Dalles, Oregon 97058. Spencer, Libby and Powell Funeral Home is in charge of arrangements.