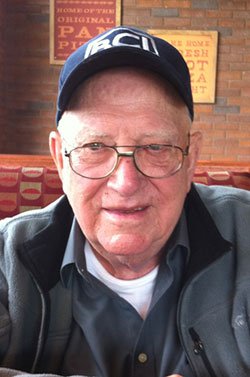 David A. Duff
Monroe, Ore.
June 25, 1922 - January 31, 2013
David A. Duff, 90, of Monroe, Ore., formerly of Eugene, Ore., and The Dalles, Ore., died Jan. 31, 2013, of esophageal cancer.
He was born June. 25, 1922, to Moler and Bessie (Fenner) Duff in Columbus, Ohio. He graduated from high school and joined the Navy in World War II. He saw combat in the Pacific Theater and served in the Aleutians.
He married Helenmae Meyers on May 15, 1945. They moved to Seattle, Wash., where David served as a boiler maker for Great Northern Railroad. They later moved to Cascade Locks, where he trained at Bonneville Dam and worked as a control room operator at McNary and The Dalles dams. He retired as chief of operations for The Dalles and John Day dams.
He enjoyed fishing, camping, tying flies, golf, playing cards, good food, but most of all he enjoyed people, especially family.
He is survived by his wife of 67 years, daughter Jackie (Duff) and son-in-law Randy Crowson, Monroe; daughter Alice (Duff) and son-in-law David Houghtalking, Schenectady, N.Y.; four grandsons, Damian Crowson, Grants Pass, Ore.; Jason Crowson, Sacramento, Calif.; Bradley Crowson, Cheshire, Ore.; Paul Houghtaling, Santa Rosa, Calif.; and four great-grandchildren.
He was preceded in death by an infant daughter, Janet Elain.