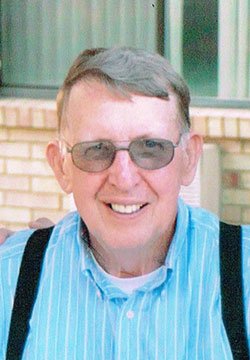 Donald Michael DeGrange
Wasco, Ore.
October 7, 1932 - January 31, 2013
Donald Michael DeGrange, 80,
a longtime
resident of Wasco, Oregon, passed away peacefully in his home surrounded by his family on Thursday, January 31, 2013.
Don was
born in Gage, Oklahoma on October 7, 1932 to Walter and Irma (Fessler) DeGrange.
The family moved from Gage, Oklahoma to Sweet, Idaho to escape the dust bowl in 1935. Sixteen years later the family moved to Boise, where Don met his future wife at
a high school dance at St. Teresa's Academy; they married September 27th, 1952 in Pullman, Washington. Don and Joan lived in North Bend, Oregon where Don was employed by Coos Bay Dredging and then went on to join the International Union Operating Engineer local chapter 701.
In 1963 Don and Joan moved to Wasco, Oregon where Don worked on the John Day dam, then went on to own and operate the Wasco Market and Oskaloosa Hotel. The family started Don DeGrange Grading and Excavating in 1977, and ran the
company until selling it to his son Ken and grandson Mike in 2004;
even well into retirement, it was
still his greatest joy in life to go run equipment and "help the boys." In his final days, he is remembered as saying that maybe God needed him
to go push some clouds around in heaven with a backhoe.
He is survived by his loving wife
of 60 years, Joan DeGrange; sisters Margie Worley and Patricia Whampler; and children Deborah (Mike) Jackson, Christine (Rick) Haustveit, Kenneth (Tiffany) DeGrange and Daniel DeGrange,
as well as grandchildren David (Miranda), Britt (Jennifer), Sarah, Ben, Sam, Michael (Amber) Michelle, Joseph, Gabby Parker, James,
Harley and Dillion Simmons.
Great-grandchildren include , Brannon, Emily, Allison, Savanna, Mya, Mataya and Liam.
Don is preceded in death by his parents, brother Leroy DeGrange
and great-grandson Elijah Michael Haustveit.
Mass of Christian Burial will be Friday, February 8, 2013 at 12 noon at St. Mary's Catholic Church in Wasco, Oregon with graveside service to
follow at Wasco Sunrise Cemetery.
A luncheon will follow at St. Mary's Parish Hall.
Spencer, Libby and Powell Funeral Home in care of arrangements.

Services for Donald Michael DeGrange