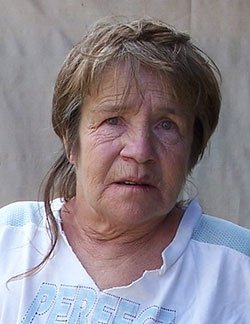 Vicky Fink
The Dalles, Ore.
July 26, 1952 - February 4, 2013
Vicky Fink, 60, died Feb. 4, 2013.
She was born July 26, 1952, in Pennsylvania.
She worked as a certified nurse's aide at the Oregon Veterans' Home, loved sunshine, fishing, camping, going to the beach, music and her dogs. She kept in touch with family through phone calls every Sunday.
She is survived by her daughters Anita Crow, Dallesport, Wash.; Tracy Mindek, McDonald, Pa.; Monica Crow, Burgettstown, Pa.; Ramona Hill and her son-in-law Rick Hill, Melbourne, Fla. She is also survived by 15 grandchildren: Travis Atchley, Jesse Atchley, Jacob Atchley, Kiara Flickinger, Michael Crow, Christopher Carter, Ben Mindek, Mackenzie Mindek, Noah Mindek, Jessica Jobe, Camron Heirendt, Kaden Heirendt, Alisun Heirendt, Ricky Hill and Brook Williams; her husband, Marty Fink; her mother, Marge Dillon; sister, Karen Schultz, brothers Dennis Dillon and Gordon Dillon.
She was preceded in death by her father, Joseph Dillon, her brother John Dillon and her mother-in-law Shirley Fink.