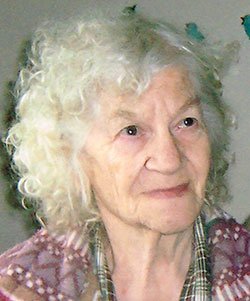 Lillian Maude Yocum
The Dalles, Ore.
April 9, 1923 - January 30, 2013
Lillian Maude Yocom (Cook), 89, a resident of The Dalles, Ore., died Wednesday, Jan. 30, 2013.
She was born April 9, 1923, to Curtis (Jum) Cook and Henrietta (Burris) Cook, in Condon, Ore., where she was raised and educated. In 1941 she and Dale E. Yocom were married. They moved around to different places in Oregon and Washington before finally settling in The Dalles in 1964. They divorced in 1969 and she never remarried.
She is survived by her siblings Floyd (Boze) and wife Song, Condon; Lloyd, Idaho; Delmar, Dufur, Ore.; children Linda Corson, Susanville, Calif.; Wayne (Bev) Yocom, Gresham, Ore.; Perry (Diana) Yocom, Henderson, Nev.; Ruth (Henry) Davis, The Dalles, Ore.; and Mark Yocom of Susanville; 16 grandchildren, 34 great-grandchildren and three great-great-grandchildren.
She was preceded in death by her parents, brothers Byron, Darold, William (Wick) Cook and Dave West; a sister Florence (West) Johnson; granddaughter Kim and grandsons Robbie and Steven.
Memorial services will be Friday, Feb .15, at 2 p.m. at Spencer, Libby and Powell Funeral Home.
Memorial contributions may be made to charity of choice.
Services for Lillian Maude Yocum