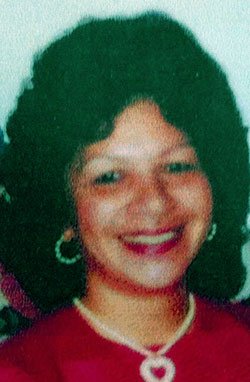 Donna "Christy" Christine Strafford
Hood River
November 19, 1956 - September 16, 2012
The angels came for Christy on her journey to heaven. She was pain free! I think she danced her way into heaven.
Her husband, Joseph (Syd) and loved ones were close by, Adrian, Greg and Gina, and her pets: Bridget, Missy, Spunky and Stormy.
Christy passed away from bile duct cancer. She chose hospice care so she could enjoy visits from family, friends, cousins, play the slots at "that place" and plant flowers and more flowers, shopping, beading, eating prawns and bingo on Fridays. Her favorite colors were turquoise and purple and she had an affinity for Spellbound perfume.
Christy was born in Portland, Ore., at the old St. Vincent Hospital to Danny and Patricia Mansayon. Both parents worked so our maternal grandmother raised Christy from birth to adulthood. During this time, they lived in Portland, Gresham, Moody and Milwaukie. Christy's brother, Greg, joined them in Maupin, Ore., where they enjoyed a fun-filled childhood and grandma's home cooking.
Christy met her future husband just before her 21st birthday. They married in September 1970, divorced in 1975 and remarried in 1994. Syd and Christy enjoyed their trips to Hawaii and Las Vegas.
Thank you to my brothers, Adrian and Greg, for your telephone calls, prayers, shopping trips, and trips to Yakima and Portland to visit relatives. Adrian, I loved all the fresh flowers you sent, especially the last rose which I held and never let go of. Greg, we share so many memories — keep them close, Jamie, you're very special to me, remember that, and thank you for the work you did when I was too weak to do it myself.
Thank you to my sister Gina for allowing me to drive her car to Grand Ronde to accept Christopher's award. I really missed driving so this was fun for me. Preceding Christy in death were her parents; beloved grandmother, father-in-law, Gerry Strafford; siblings, Margo, Mark and Michael; and many other relatives and friends. Survivors include her husband, Syd, and his siblings and mother-in-law, Anne Strafford; brothers, Adrian (Cheri) and Greg (Darlene); sister, Dolores (Charles), Gina and Antonette; nephews, Jeff, Damian, Jamie, Shane and Christopher; and great-niece, Cheyenne Mansayon. Her family gives special thanks to the staff at Celilo Cancer Center, Dr. Stephen Becker, Providence Hospice of the Gorge and home services, especially nurse Colleen. Also, thank you to the Red Hot Sisters and my special sister Carol and her husband, Steve Moore. A big thank you to my friend, Dora Mee, for coming to my last powwow in August 2012. We all had fun. Also thank you to Claudia Angelo, Cathy Lancaster and Lucille Stevens for their prayers and support.
"A limb has fallen from the family tree. I keep hearing a voice that says 'Grieve not for me.' Remember the best times, the laughter, the song. The good life I lived while I was strong. Continue my heritage. I'm counting on you.
"My mind is at ease, my soul is at rest. Remember all, how I was truly blessed. Continue traditions, no matter how small. Go on with your life, don't worry about falls. I miss you all dearly, so keep up your chin. Until the day comes we're together again." — Author unknown.
Burial of Ashes will be at Mountain View Cemetery next to her beloved grandmother, Bessie, in Hood River, Ore.