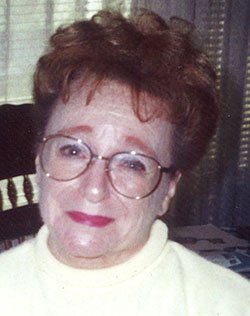 Ernestine A. Byrd
The Dalles
August 18, 1929 - February 2, 2013
Ernestine A. Byrd, 83, died Sunday, Feb. 3, 2013, at Mid-Columbia Medical Center in The Dalles.
She was born Aug. 18, 1929, in The Dalles, Ore., to James Ziegler and Jeannie V. Means. She grew up in The Dalles and attended The Dalles schools.
She moved to Portland, Ore., in 1971 and settled there. She worked at Hocks Laboratories as a secretary for many years. She also worked as an elevator operator. She moved back to The Dalles the last five years of her life.
She loved traveling with Lee Miller, her significant other of 37 years, to Las Vegas, Reno, the Oregon Coast, camping and fishing in their motorhome and traveling to Texas.
She is survived by her significant other, Lee Miller, Blessing, Texas; son Don Mee, The Dalles; daughter Diana Cheadle, son-in-law Mike Cheadle, The Dalles; sister Lillian Schork, Vashon Island, Wash.; grandchildren Stephen, Chad, Brandon, Jenny, Kristin, Tara, Liberty, Jermy, Matt and Tonia, nephew Michael, Niece Susan and many great-grandchildren.
She was preceded in death by her father and mother, son Stephen Boggs and granddaughter Stephanie Boggs.
Memorials may be made to Shriner's Children's Hospital.