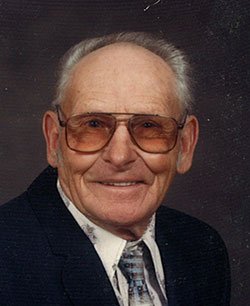 Hulyn Glen Roether
November 19, 1918 - January 3, 2013
Born November 19, 1918, Hulyn Glen Roether passed away to join his family on January 3, 2013.
Hulyn was raised in Pearce, Arizona on the Clapp family homestead. He served in the Army in World War II. He received two Purple Hearts. He was a wonderful father and a devoted husband He
had an amazing sense of humor. He loved spending time with his family and friends. He enjoyed playing with his grandchildren and great grandkids. He loved hunting and fishing.
He loved being outdoors. His passion was sports, football and baseball and he never missed a chance to watch a game. He was an avid reader of anything he got ahold of. His mind was still sharp as a tack at 94! He took great pride in his yard. He was always busy with a project
He is preceded in death by his wife Anita of 34 years, six brothers, two sons, Doug and Glen-Alan and a granddaughter Randie and a grandson Eric.
He is survived by his son Steven and wife Peggy of Chehalis, Wash, son Bruce of Chehalis, Wash., and daughter Patty Dell of Buellton, Calif. He will be missed more than he will ever know, and by a great many!