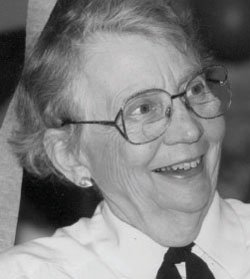 Elizabeth "Liz" Bornholdt
Portland, Ore.
May 26, 1922 - February 11, 2013
Elizabeth Bornholdt
May 26, 1922 - February 11, 2013
Elizabeth Bornholdt passed away of natural causes on February 11, 2013, at her home in Portland, Oregon after living a rich, full life of 90 years.
She was born Mary Elizabeth Rackaway in Mt. Vernon, Illinois on May 26, 1922. She was the daughter and only child of Alva Walter Rackaway, a pharmacist, and Ethel Fern Burke, a nurse. Elizabeth (Liz) attended the University of Iowa College of Nursing where she graduated in 1945 and met her husband, Robert Lee Bornholdt, a returning World War II prisoner of war. Liz and Robert (Barney) were married on June 1, 1946, in Davenport, Iowa.
After spending several years in the Midwest, Liz and Barney moved to Southern California in the early 1950s and raised two daughters, Ann Elizabeth and Lee Katherine Bornholdt. Between the early
1950s and 1972 the family lived in Westchester, La Cañada, Menlo Park and Palos Verdes, California. In 1972 Liz and Barney moved to Hubbard, Oregon, and purchased a bookstore in Salem. In Oregon, Liz became interested in the textile arts and became an accomplished and creative spinner and weaver.
The couple purchased property in the Columbia River Gorge in 1981. Liz and Barney designed and built a home in Mosier, Oregon in what is now a federally protected scenic area. On the property, Liz raised a flock of angora goats which provided fleece for her numerous weaving endeavors. After Barney passed away in 1985, Liz lived independently in the Gorge until 1996, when she moved to Portland, Oregon.
Liz was a registered nurse and a bookstore proprietor. She was an active member of the United Church of Christ in several West Coast locations. Liz was a member of the League of Women Voters in Southern California. Liz was also a member of the Columbia Fibers Guild in the early 1990's and the Portland Handweavers Guild, in 2005.
Many textile art skills were an important part of Liz's life, including quilting, spinning, weaving, needlepoint, embroidery and lace-making. Liz had an enduring love of animals. Besides her flock of angora goats, Liz provided a loving home for numerous dogs and cats. She was also an active bird-watcher in the Columbia Gorge. Liz loved the rural life-style and landscape. Her home in the Columbia River Gorge remains a family retreat.
Liz is survived by daughters Ann Elizabeth Bornholdt and Lee Katherine Campbell, son-in-law Donald Brian Campbell, grand-daughter Brenna Ceilidh Campbell, Shelton Mathew Bennett, Shelton's wife Sarah Bennett and their sons, Amaru Nesta Bennett, Kyan Ossian Bennett, and Orion Helios Bennett.
Burial will be at the Cherry Heights I.O.O.F Cemetery in The Dalles, Oregon, next to Elizabeth's husband, Robert Lee Bornholdt.
A memorial will be planned at the United Church of Christ in Lake Oswego, Oregon. For information regarding the memorial, please contact the family of Lee and Don Campbell, Portland, Oregon.
In lieu of flowers, remembrances can be made in Elizabeth Bornholdt's name to the Oregon Humane Society.