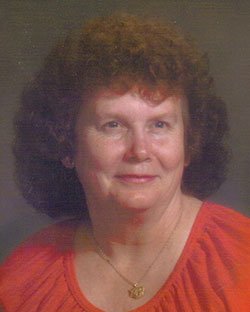 Cora "Bea" Berniece Baldwin
The Dalles
January 14, 1932 - February 19, 2013
Cora Berniece "Bea" Baldwin, 81, passed away peacefully with family at her side on February 19, 2013.
Bea was born on January 14, 1932 in Berryville, Arkansas, the eldest of four daughters to Leonard and Ethel (Smith) Brisco. She married, the love of her life, Franklin Frederick Baldwin on September 5, 1951, and they were blessed with three daughters.
They raised their family in The Dalles, OR. Bea was a beloved mother and housewife, and the bookkeeper for the family business.
Bea enjoyed bowling and dancing with her husband, playing cards, bingo, gardening, knitting, quilting, and making Christmas candy and pies. She loved her family and family get together's. She also
volunteered in the mailroom at Mid-Columbia Medical Center and was a member of the Eagles and Moose clubs.
Bea is survived by her daughters, Connie Sue Baldwin and Norma Jean Thess; son-in-law, Greg Thess;
sisters, Delores Hands, Genette Hodges, and Jo Davidson; grandchildren, Monica Richards, Miranda Holzwordt, Brandon Shanklin, Stephanie and Rachel Thess; great granddaughter, Valkyrie Shanklin; and sister-in-law, Shirley Ulrich. She was preceded in death by her husband, Frank and daughter Judy Kathleen. She will be
dearly missed by all.
Services are planned for Noon, Saturday, February 23rd, 2013, led by Chaplain Neil Porter, at The Odd Fellows Cemetery (1100 W 18th Street, The Dalles, OR 97058). Reception will be held at The Springs at Mill Creek at 2:00 p.m., with a special musical tribute by "The Dufur Boys" in celebration of Bea's life and love of country music. Viewing is scheduled from 9:00 a.m. to 5:00 p.m., Friday, February 22nd at Anderson's Tribute Center (1401 Belmont Avenue, Hood River, OR 97031).
Condolences may be sent to the family at www.AndersonsTribute
Center.com.
In lieu of flowers, the family requests donations be made to Heart of Hospice Foundation in honor of the loving care that Bea received.
Services for Cora Berniece Baldwin