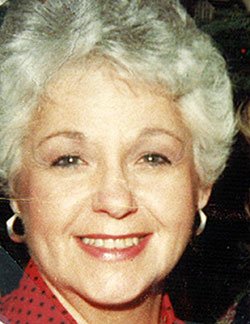 Virginia "Ginny" Lee Reiman
The Dalles, Ore.
December 25, 1921 - February 19, 2013
She always talked about her life growing
up in the Mill Creek area
and swimming across the
Columbia River before there
were dams.
Virginia Lee Reiman, born on Christmas Day, December 25, 1921, passed away peacefully on February 19, 2013. She married William E. Reiman and gave birth to three beautiful daughters, Nancy, Donna and Kay. Her life was supporting her husband and raising her family. She loved her grandchildren, Summer, Ryan, Greg, Jeff, Krysta and Kreeya and her great grandchildren, Maddie,
Tanner, Jaegar, Jacek, Tristan and Emma, her nephew, David Lee, wife Sandy and all her extended family. She was a long time volunteer at the Mid-Columbia Medical Center Gift Shop and a member of the Alter Guild at the St. Paul Episcopal church.
Virgina was preceded in death by her husband, Bill Reiman and her brother Don Lee. She lived at Cherry Heights for several years. The family wishes to extend a heart felt thank you to Mary Catherine Preston for the love and care she gave to Ginny. The family will celebrate her life in private. No services are planned.