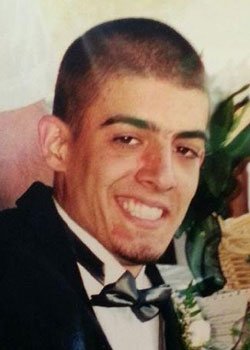 Glenn Eric Twidwell
Portland, Ore.
December 24, 1978 - February 21, 2013
Glenn Eric Twidwell, 34, passed away at Legacy Emanuel Hospital in Portland, Oregon on Feb. 21 due to complications from Crohn's disease.
Glenn was born Dec 24th, 1978 in The Dalles, Oregon to Bryan Twidwell and Cindy Cooper.
Glenn grew up in The Dalles, attending elementary through high school. He was actively involved from an early age with sports, including AYSO soccer, baseball — little league, minors and majors, and wrestling. He also loved to skateboard.
Glenn spent his adult life in the Tualatin and Oregon Coast areas. Glenn worked in many areas of
construction and the outdoors. In his endeavors he met and made many new friends.
Glenn would tell you his greatest loves in life were his nephews Gerrit and Matthew. The boys were so special to Glenn that their names were tattooed on his arms. He was an avid fan of the Washington Redskins, North Carolina Tar Heels, Oregon State Beavers, fishing and disc golf. His love of his four-legged friend, Orion, was unsurpassed as well.
Glenn was preceded in death by his Aunt Sharon Duggan, Papa Dennis Matthews, brother Shea Cooper, Grandparents Dean and Joan Twidwell and his beloved Pit Bull, Orion.
Glenn leaves behind his mom Cindy Cooper, dad Bryan Twidwell and wife Debby, sister Beth, brother in law Eric, and nephews Gerrit and Matthew; brother Colin, sister in law Andrea and nephew Liam. Grandmother Beverly Mathews and Uncle Thom Leslie. Carol and Tom Pfaff, Doug Duggan, Joseph McDonald, David and Robin McDonald, Janet and Rick Thrall, Larry and Debbie Twidwell, Randy and Tracy Twidwell, Kay Twidwell, Leonard Cooper, Meggan McKenzie and Seth Cooper. Cousins Sarah Kamasz (Matt) and family, Stacie Creighton (Dick) and family, Scott Pfaff (Katie), Sybil Guggenheim (Adam), Sherry Lobato (Mike), Samantha Pfaff and family, Brooke Henderson (Heath) and family, Kurt Duggan, Mahlcolm McDonald, Michael McDonald and family, Jodi Garzosa (Noe) and family, Jeff, James and J.D. McDonald, Steve Twidwell and son Luke, Brian Twidwell, Megan, Reed and Riley Twidwell, and Cammarie and Randy Thrall.
A special thank you to Glenn's closest friends: Anna, Chad, Lisa and Bryce.
Glenn's family would like to acknowledge the doctors and nurses at both Legacy Meridian Hospital in Tualatin and Legacy Emanuel Hospital in Portland for the care, support and compassion they provided Glenn and family.
A Memorial Service for Glenn will be held at 1:00 p.m., Saturday, March 2nd, 2013 at Anderson's Tribute Center, 1401 Belmont Avenue, Hood River, Oregon 97031. Donations are being accepted for Glenn's memorial fund at Anderson's Tribute Center.
Please visit www.AndersonsTributeCenter.com to leave a note of condolence for family.

Services for Glenn Eric Twidwell