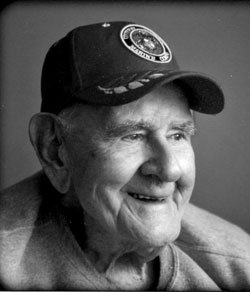 Benjamin Elbert Veatch
Mosier
December 16, 1922 - January 16, 2013
Benjamin Elbert Veatch, 90, of The Dalles, Ore., died Jan. 16, 2013.
He was born Dec. 16, 1922, in Mosier, Ore., the first son to Benjamin W. and Erma Veatch. He lived most of his life in Mosier and moved to the Veterans Home in The Dalles in 2009.
He graduated Mosier High School in 1941 and attended the National Youth Administration auto mechanic school in Eugene, Ore.
In response to the war effort, he worked for Boeing Aircraft at the B-17 assembly plant in Seattle, Wash., and later for American Foundry and Hyster in Portland, Ore.
He married Naomi Lois Brooks of Mosier on June 12, 1943 in Parkrose, Ore. They had two sons and two daughters.
He entered the U.S. Marine Corp. Oct. 12, 1943, attended Naval Air Technical Training Center in Norman, Okla., and shipped overseas in November 1944. He served in Guadalcanal, New Guinea, and The Philippines as an aircraft mechanic supporting SBD Dauntless torpedo bombers. After the war, he was assigned to occupational duty in China and discharged as corporal at Mare Island, Calif., Jan. 24, 1946.
He was a part-time orchardist and worked in the Mid-Columbia area at several sawmills, Union Pacific Railroad, Sunshine Biscuit flour mill in The Dalles, Diamond Fruit Growers Cannery in Hood River, and retired while at District 9 Schools. In retirement, he drove the Mosier Seniors bus.
He is survived by four children; Shirley Bagge and husband Robert, Mosier; Bonnie Thomas and husband James, Oregon City; Elmer and wife Cindy, Las Vegas, Nev., and Gary, Portland; seven grandchildren, and 12 great-grandchildren.
He was preceeded in death by wife Naomi, brother Walter, and two grandchildren.
A celebration service is planned at 11 a.m. Saturday, Feb. 2, at Mosier Community Church followed by gravesite service at Mosier Cemetery.

Services for Benjamin Elbert Veatch
February 2, 2013

Memorial service: 11 a.m.
At Mosier Community Church, followed by gravesite service at Mosier Cemetery.