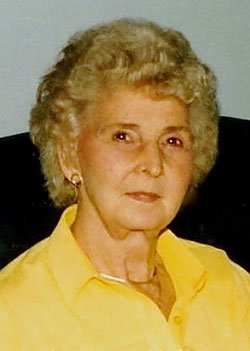 Helen Kegley George
Mesa, Ariz.
January 16, 1921 - May 19, 2013
Helen Kegley George, 92, died May 19, 2013, at her son's home in Mesa, Ariz., where she had been living for the past few years.
She was born Jan. 16, 1921 in Puget, Wash., to Samuel and Lillian Kegley. On Jan. 15, 1945, she married Joe W. George in Los Angeles, Calif. That fall they moved back to The Dalles where he worked in the clothing business and she worked as a telephone operator for Pacific Northwest Bell and worked her way up to chief operator. After the office closed in 1973, the company moved her to Portland, Ore., where she was chief operator in directory assistance until she retired in 1976.
At retirement, she and her husband moved back to The Dalles where they continued to live until her husband's death in 2006.
She loved to bowl and was part of many teams in The Dalles. She was also an avid cook with a specialty in baking pies. She loved to travel and play bridge. One of her favorite trips was to Sweden to visit relatives and see the places that her grandparents had lived. She always enjoyed being with her family, friends and relatives.
She is survived by her two children, Sam (Mary) George, Mesa, Ariz.; and Linda (Doug) Grunke, Paterson, Wash.; and two brothers, Eric Kegley, Silverdale, Wash.; and Tom Kegley, Poulsbo, Wash. She also leaves behind her four grandchildren, five great-grandchildren, two great-great-grandchildren and many nieces and nephews.
A memorial is set for July 12, at the Riverenza, 401 E. 10th St., The Dalles, from 2 to 5 p.m. In lieu of flowers, donations may be made to a local hospice.
Services for Helen Kegley George
July 12, 2013

Memorial service: 2 p.m. to 5 p.m.