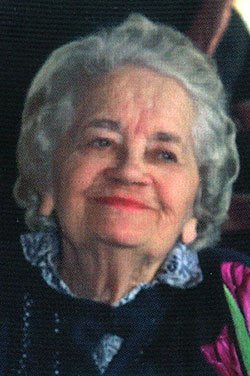 Josephine Kerege
The Dalles, Ore.
February 23, 1923 - June 7, 2013
Josephine Elizabeth Ward Kerege, 90, of The Dalles, died June 7, 2013, at Mid-Columbia Medical Center peacefully, surrounded by family, following a stroke.
She was born Feb. 23, 1923, at her grandmother's home to Clara Thompson Ward and Edward L. Ward. She attended the one-room grade school at Boyd before graduating from The Dalles High School, St. Helen's Hall Junior College and the University of Oregon. She served as a Wave during World War II.
She married John F. Kerege on June 29, 1946.
She taught school for several years as a substitute teacher in The Dalles to help put six children through college.
She was a member of St. Alphonsus Catholic Church.
She is survived by her children Mary Kerege McAllister (Randy), Karolyn Kerege Steele, Kathryn Kerege Matthews (J.V.), Cynthia Louise Kerege Wheeler (Grant); her sister Nancy Ward Zopf (Dave); grandchildren Jeff, Marc, Sean, Shannon, Rob, Doug, Jason, Josh, Megan, Grant Jr., Ashley, Heather, Paul and eight great-grandchildren.
She was preceded in death by her husband John Kerege, son John Kerege Jr., son Louis Kerege, parents Edward and Clara Ward, and brother Edward Ward Jr.
Viewing is Friday, June 14th from 2 to 7 pm at Spencer, Libby and Powell Funeral Home. Rosary is planned at St. Peters Catholic Church, Saturday June 15th at 9:30 am, followed by Mass of Christian Burial with Naval rites, then burial at St. Peters Catholic Cemetery. Reception to Follow.
Memorials may be made to HAVEN, CASA or The Dalles-Wasco County Library children's addition fund.
Services for Josephine Kerege