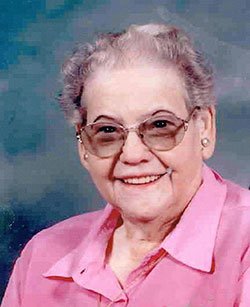 Ruby E.L. Sappington Hester
April 15, 1927 - June 11, 2013
Ruby E.L. Sappington Hester, 86, a resident of The Dalles, died at Cascade Senior Care Home on Tuesday June 11, 2013.
She was born April 15, 1927 near Nocona, Texas, Montague County. She was the fourth child of Bert and Maggie Sappington. She grew up in Texas, Oklahoma and Oregon.
She married James F. Hester on Aug. 23, 1947, in Stevenson, Wash. They were married for 62 years when he died in 2009.
She is survived by five children, James A. and Linda Hester, Aurora, Ore.; Darlene and Joe Davis, Lori and Bob Newson, The Dalles; Eula (Yo-Yo) Oswald and Friend Danny Hexum, Hood River, Ore.; Dennis Hester, The Dalles; 14 grandchildren and 33 great-grandchildren.
Also surviving are her siblings sister Ada Jane and Dick Leonard, Hood River; brothers Joe Sappington, Stillwater, Okla.; Chuck and Verla Sappington, Manteca, Calif.; sister Sharon Kay Savage, Federal Way, Wash.; brother-in-law Harold Peffer, Federal Way; and sister-in-law Betty Sappington, Hood River; and numerous nieces, nephews and great nieces and nephews.
She was preceded in death by husband James F. Hester, grandson James A. Hester Jr., parents Bert and Maggie Sappington, siblings Bill Sappington, Eula Mae Arensen, Matilda Clapp, Albert Sappington, Samuel Sappington, Phyllis Sappington and Mary Peffer.
Graveside services will be Saturday, June 15, at 1 p.m. at the I.O.O.F. 18th Street Cemetery.
Memorials may be made to Cascade Senior Care, 2500 W. 10th St., The Dalles, OR 97058 or Providence Hospice of The Gorge, 1630 Woods Ct., Hood River, Or. 97031.
Arrangements are under the care of Spencer, Libby and Powell Funeral Home.
Services for Ruby E.L. Sappington Hester
June 15, 2013

Graveside service: 1 p.m.