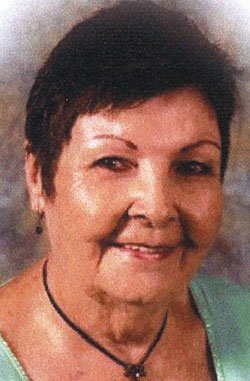 Bonnie Annabelle Fitzgerald
August 9, 1929 - May 29, 2013
Bonnie Annabelle Fitzgerald, 83, who has ties to the Mid-Columbia, died May 29, 2013.
She was born Aug. 9, 1929, in Clifton, Ariz., to Jasper and Mabel Stacey. She married Gilbert Euel Benson in about 1946. After his death, she married William Ray Fitzgerald. She lived most of her life in Arizona.
She is survived by her sister, Barbara Parker and brother Eddie Stacey; her children: Linda Marie Speelman, Kathy Lanell Campbell, Susan Kaye Hackitt, Audie Randall Benson, Stacy Phillip Benson, Robin Renee Storm, Tamara Eueline McCarthy, and Ray Maxwell Fitzgerald. She had 24 grandchildren: Jack and Linda Speelman's children Shawna Hickey, Wendall and John Speelman; Kathy Campbell's children Aaron, Shannon and Rene Ernsberger; Susan Hackitt's children Brandi and Arlo Hackitt; Audie Benson's children Randy, Gilbert, Janet, Gary, Travis, Joseph, Shane, Justin, Andrew and Sara Benson; Stacy and Wilma Benson's children Kyle Benson and Bonnie Garatea; Robin Storm's son Ryan Storm; Tamera and Hugh McCarthy's son Morgan McCarthy; Ray and Mary Fitzgerald's sons Cody and Dylan. She also had 29 great-grandchildren and two great-great-grandchildren.
She was preceded in death by her husband Gilbert Euel Benson; her daughter Mary Ellen Benson; her sisters Gladys, Sibyl, Geraldine and Maxine; and her brothers Herbert, Bob and Clyde.