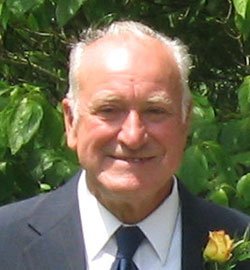 Richard "Dick" Roy Sauter
Tualatin, Ore.
January 28, 1932 - June 3, 2013
Richard Roy "Dick" Sauter passed away June 3rd, 2013 in Tualatin, Oregon surrounded by family. He was 81 years old.
Richard was born January 28th, 1932 in Lyle, Washington. He attended Lyle High School, and went on to study
Engineering at the
University of Washington, Seattle.
When the time came he served his country in the United States Coast Guard, and was awarded the Korean Service,
United Nations Service, National Defense Service and the Good Conduct medals.
He was married twice, to Janice Pimley Sauter and Marjorie Mattoch Sauter.
Richard spent his days working as a Commercial fisherman,
logger and heavy
construction worker. He enjoyed spending time with family and friends, flying kites, camping, fishing, hunting, long walks and gardening. He was fond of all types of food which is why he loved potluck gatherings, especially involving
family and friends.
He also participated in local organizations such as the Elks Club, the Grange, NRA, and Boy Scouts of America.
Richard is preceeded in death by his
Father, Erwin
Andrew Sauter, his Mother, Nellie Ada Evans Sauter, his three brothers Erwin, Frank and Ted; and his two sisters Nellie and Mary.
He is survived by his son, Richard D. Sauter of Tualatin, OR, his Step-Son Kevin Mattoch of Alexandria, VA and his three daughters Teresa Holloway of Thonotosassa, FL, Laura Correia of The Dalles, OR, Cheryl Carlson of Lake Stevens, WA, and his two Step-daughters, Cheri Hutchins of Vancouver, WA, Felicia Mattoch, of Longview, WA.
He is also survived by his nine grandchildren and one great grandchild.
Funeral services
were held June 8th, 2013 at 1:00 pm at the Balch Cemetery and followed with a potluck at the Grange in Lyle,
Washington
In lieu of flowers
donations can be made to Alzheimer's Association Oregon ,1650 Northwest Naito Parkway, Suite 190, Portland, OR 97209. http://
www.alz.org/oregon/
Services for Richard Roy Sauter