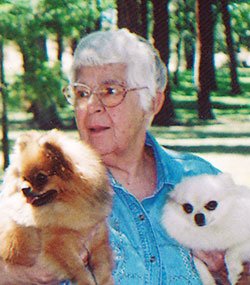 Emily Burk
The Dalles, Ore.
July 24, 1925 - June 1, 2013
Emily Burk, a resident of The Dalles, Ore., passed away peacefully on June 1, 2013 in Portland, Ore.
She was born on July 24, 1925, in Chicago, Illinois. She grew up in the Chicago area and
worked in retail there for many years. Emily and her mother moved out to Oregon to be with family in
the late 1950's. She was a long time employee of Payless Stores as a buyer for the toy department.
When Emily retired she did volunteer work for several community organizations always offering a helping hand. Emily loved animals of all kinds and had many family pets. She was an avid yard saler and bingo player. Emily was preceded in death by her mother, Emily Burk and father Mark Twain Burk. Emily had a large extended family many of whom she helped raise. We will all miss her very much. The family will celebrate her life with a graveside service at the Oddfellows Cemetery and potluck at the Eagles Lodge on Saturday July 20, 2013 at 10:30 a.m.
Services for Emily Burk
July 20, 2013

Celebration of Life: 10:30 a.m.