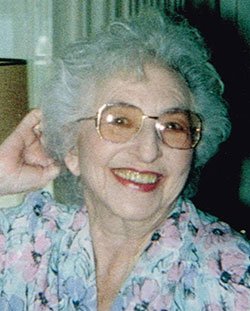 Cora Lovina Smith
The Dalles, Ore.
October 19, 1911 - June 23, 2013
Cora Lovina Smith, 101, a resident of The Dalles, Ore., died Sunday, June 23, 2013, at her residence.
She was born Oct. 19, 1911, in Hermiston, Ore., the sixth of ten children to William and Minnie (Burlew) Browning. She was raised and educated in Baker City and La Grande, Ore. She was baptized at the First Baptist Church in Baker City at the age of 12.
On May 12, 1928, she and Clair Frank Smith were married at Cora's parent's home in La Grande, Ore. She had resided in Baker City, La Grande and Cove, Ore., 18 years in Goldendale, Wash., and over 30 years in The Dalles. She had worked as a grocery clerk, fruit packer, waitress, meat cutter assistant and 23 years as an Avon Representative.
She attended the Gateway Presbyterian Church in The Dalles and was a Red Cross Volunteer. She enjoyed dancing, cooking, crocheting, knitting and raising flowers.
She was preceded in death by her husband , son Lyle, two grandchildren and all of her siblings.
She is survived by her children, Bernadine and Homer Kesterson, Forks, Wash.; Evelyn Vader, Goldendale; Darcy Smith, East Wenatchee, Wash.; and Nelda Jo and Ronald Yarnell, Baker City. Fourteen grandchildren, four step-grandchildren, 26 great-grandchildren, 36 great-great-grandchildren and numerous nieces and nephews also survive.
Private cremation was at Win-Quatt Crematory. Interment will be in the family plot in Cove. Spencer, Libby and Powell Funeral Home is in charge of arrangements.