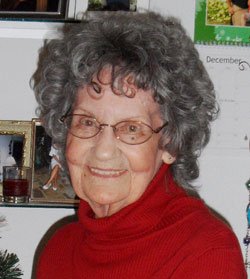 Jeanette Theodora Fisher
Lincoln City, Ore.
January 22, 1922 - March 7, 2013
Jeanette Theodora Fisher, age 91, of Lincoln City, Oregon passed away in Lincoln City on March 7, 2013.
Jeanette was born January 22, 1922 in Fairfield, California to Theodore Richard Bryant and Francis Dulsie Fickle Bryant.
She graduated from Sacramento High School. Jeanette sang in church and was a member of a quartet that sang on the radio.
On October 12, 1940 she married Jack Fisher in Sparks, Nevada. For the next 4 years during World War II she and husband Jack lived near Fairfield Air Field supporting the war effort.
They moved their family to The Dalles, Oregon in 1944. Husband Jack Fisher opened a cleaning and painting business. Jeanette was co-owner and bookkeeper in their business for 47 years. Jeanette and Jack relocated to Lincoln City following their retirement in 1989.
Jeanette's life passion was to love and support her husband, children and extended family. Throughout stages of her life she enjoyed cooking, sewing dresses for her daughters, making ceramics, rug hooking, participating in bowling leagues and serving in her church.
While she lived in The Dalles, Jeanette attended Gateway Presbyterian Church serving as a Deaconess, Shepherd, attending bible studies and prayer groups. Her spiritual passion was worshiping her Lord Jesus and intercessory prayer. After moving to Lincoln City she attended the AOG church and led a weekly devotional and intercessory prayer group. Her spiritual legacy is intercessory prayer and she continually interceded for the prayer needs of her family members and her church family.
From childhood Jeanette loved the ever changing power and beauty of the ocean. The ocean was a reminder to her of God's wonderful creation and a personal source of enjoyment during retirement. Lincoln City became the destination for many family reunions and numerous regular visits from extended family members who loved their mother/grand-mother.
Jeanette is survived by her children, Nanette Lee Kortge and husband Mike of The Dalles, Ore.; Barbara Jean Williams and husband Don of Oro Valley, Ariz.; Bill Fisher and wife Ingrid of The Dalles, Ore.; and Jacquelyne Ann Fisher-O'Connor and husband Brian of Gig Harbor, Wash., brother Robert Trippe Sr. and wife Glenna of Carmichael, Calif.; cousin Caroline Hall and husband Michael of Florence, Ore.; Betty Scherer and husband Steve of Citrus Heights, Calif.; nephew Steve Anderson of Long Beach, Wash.
Jeanette had 13 grandchildren: Lynette Planto of Vienna, VA; Rob Dodman of Costa Mesa, CA; Deborah Lee St. Aubin of Oro Valley, AZ; Nicholas Swett; Patty Swett of Tucson, AZ; Jennifer Fisher; Alisa Miller of Sioux Falls, SD; Sarah Fisher of Spokane, WA; John Fisher of Cheney, WA.; Rien Tyler Havens of Longmont, CO; Cameron Reid Havens of Redmond, WA; Colin O'Connor of Gutherie, OK; Kelsey James O'Connor of Los Angeles, CA. Jeanette's family grew to 13 great grandchildren and 1 great-great grandchild.
Jeanette was preceded in death by her beloved husband Jack B. Fisher of 60 years, baby granddaughter Jennifer Kay Fisher and grandson Nicholas Gene Swett.
Jeanette peacefully passed into the presence of her Lord and Savior Jesus Christ with her family at her bedside. She will be laid to rest at Pacific View Memorial Chapel and Cemetery, 2164 NE Devils Lake Rd., Lincoln City, Ore.
A graveside service will be held on March 12 at 1:30 p.m. Following the internment a memorial service will be held at 2:30 p.m. at the Assembly of God Church at 1715 NE 19th St., Lincoln City, OR 97367 Tel: (541) 994-2043. Following the memorial service at 3:30 p.m. refreshments will be served during a time of fellowship.
In lieu of flowers the family requests that contributions be made to the Deacon's Fund at Gateway Presbyterian Church in memory of Jeanette T. Fisher, Gateway Presbyterian Church, 1111 Dry Hollow Road, The Dalles, Oregon 97058.