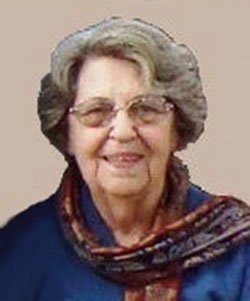 Elva Clara Keller
Albany, Ore.
September 22, 1929 - March 7, 2013
Elva Clara Keller, 83, of Albany died Thursday, March 7, 2013, at Corvallis Manor.
Elva was born Sept. 22, 1929, in Wasco, Ore., to Murvel and Daisy (Warren) Stone. She grew up in Wasco and graduated from Lebanon High School. She married Eugene "Gene" Turner in 1950 and they later divorced. She then married Warren Wesley Keller on Feb. 20, 1954, in Vancouver, Wash.
She worked for many years for D.E. Nebergall Meat Company and enjoyed many lunch and coffee visits with the Nebergall girls. She held other jobs and retired from Ormet at age 65. She enjoyed sewing, crocheting, photography, gambling, genealogy and was the family historian. She stayed active caring for their two acres and stayed up with political events. Most of all she loved being with her family.
She is survived by daughters Barb Halverson, Oregon City, Ore., Ginny Turner, Hillsboro, Ore.; and Patricia Brewer, Sweet Home, Ore.; brother Murvel Stone, Milwaukie, Ore.; sisters Gladys Wright, Lafayette, Ind.; Georgia Bolman, Lebanon, Ore., and Carol Willavage, Kokomo, Ind.; grandchildren Matthew Halverson, Russell Cooley, Victoria Watts, Sheri Fleury, Nathan Brewer, Andrea Brewer, Daniel Brewer and Ben Brewer; and 14 great-grandchildren.
She was preceded in death by her parents; husband Warren Wesley Keller; brother Michael Holiday; and grandson Michael Halverson.
A funeral service will be at 11 a.m. Thursday, March 14, at AAsum-Dufour Funeral Home in Albany with a graveside service to follow at Waverly Memorial Cemetery.
Memorial contributions may be made to the Mike Halvorson Memorial Fund in care of the funeral home.
AAsum-Dufour Funeral Home is handling arrangements (www.aasum-dufour.com).
Services for Elva Clara Keller