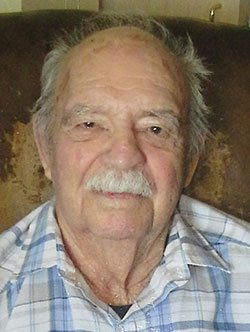 Ross Burton Wilkins
unknown - March 5, 2013
Ross Burton Wilkins died peacefully with his family at his side at 1:45 a.m. Tuesday, March 5, 2013.
Born on April 15, 1920, in Miltonvale, Kan., to Webster Burton Wilkins and Amy D. (Eckert) Wilkins, after junior high he moved with his family to Vernonia, Ore., where he completed high school. After high school he worked in forestry and he met and married his first wife June. They had a son, Lyle Wilkins in 1943.
He enlisted with the Merchant Marines in June 1943. After returning from the war, he held jobs in forestry, including driving a logging truck until he began working as a lineman for PP&L, where he helped to install and complete power line service in Eastern Oregon.
While working construction in Condon, Ore., he met and married Joyce Elaine Ihrig on April 9, 1948. Together they had five children: Karen, Janice, Theresa, Steve and Darren.
In the early years of their marriage they travelled around Oregon and Washington for his job with PP&L. He found employment with Klickitat County PUD. Because he moved around a lot as a child he felt it was important for him to raise his family in one place, so the family settled in Goldendale, Wash. He and his wife worked in Goldendale where eventually they became theater owners and ran Joyce's diner. They were married for 54 years before she died June 25, 2003.
After his wife's death, he moved to The Dalles, Ore., where he spent the remainder of his years.
He is survived by his six children, 16 grandchildren, 23 great-grandchildren, six great-great-grand-children.
He was preceded in death by his parents, his wife Joyce and his grandsons Cameron and Ricky Wilkins.
A graveside service was held on Saturday, March 9, at Spring Creek Cemetery in Goldendale. Columbia Hills Memorial Chapel handled arrangements.