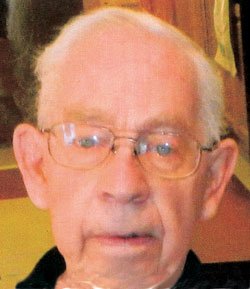 Delbert A. Doane
Grass Valley, Ore.
July 27, 1925 - February 28, 2013
Delbert A. Doane 88, resident of Grass Valley, Oregon and a long time resident of The Dalles passed away February 28, at the Oregon Veteran's Home in The Dalles. He went to be with the love of his life, to be together forever. Delbert was born July 27, 1925 in Hood River, Oregon one of three children of Florence and Robert Doane. His dad was an operator of the power plant at White River falls. Delbert always said the falls and hills surrounding the falls were is play ground when growing up. He also spent many hours playing in and around Tygh Valley with best childhood friend Jack.
Delbert married Grace V. Baldwin in 1961, their combined family included 6 children. Kathryn Ober, Penne Lukas, Bonne Whitley, Tracy Doane, Rebecca Gahringer, Sharon Doane. He owned and operated Industrial Electric in The Dalles for many years before eventually going to work for Bonneville Power where he stayed until retirement. Delbert and Grace enjoyed traveling the Pacific Northwest and his greatest love was
anything involving trains. The basement of his home in The Dalles was converted into a model railroad yard and track complete with a mural of the White River area he loved so much.
Delbert and Grace moved in the home of daughter and son-in-law Roger and Bonne Whitley in June 2005 and lived there in their care until four days before his death. He enjoyed the grand-kids visits, the grand dogs and neighbors who would drop by for visits. He faithfully attended the First Baptist Church in Grass Valley with the family. Every Sunday dinner he would say "sure was a good
sermon today" many times during the meal. Delbert will always be remembered for his
generous heart, a sense of humor and the love he showed to all the family.
Delbert was preceded in death by wife Grace, daughters Sharon and Penne. He is survived by daughters Bonne, Kathy, Rebecca and son Tracy, eight grandchildren, numerous great grandchildren and a few great, great grandchildren. As well as a sister Marjorie from Wamic and numerous nieces and nephews.
A celebration of his life will be held at the White River camp ground Saturday June 8th at
1 PM. Family and friends are invited to meet for lunch and share memories of Delbert. Remembrances may be made to Grass Valley First Baptist church building fund PO Box 26 Grass Valley, Ore. 97029.