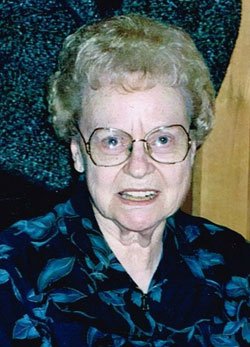 Mary "Coats" W. Eakin
Milwaukie, Ore.
March 5, 1923 - March 1, 2013
Mary W. Coats Eakin died March 1, 2013, in Milwaukie, Ore., following an extended illness.
She was born to Claud and Ella Coats March 5, 1923, in The Dalles, Ore., and lived with them south of Rufus until 1939 when the family moved east of Wasco. After graduation from Wasco High School, she briefly attended Eastern Oregon College before she married Elton M. Eakin on May 4, 1941.
She became a farm wife on the wheat and cattle ranch her husband's parents had homesteaded east of Grass Valley. As a member of First Baptist Church, Grass Valley, Ore., she played piano and organ for church services for decades.
Her husband died in 2003 and shortly after she moved to Gladstone to be near her granddaughters and their families.
She is survived by her daughter Helen Eakin, near Spokane, Wash.; son John's widow, Martha, now Mrs. Keith Flatt, Wasco; his children Michelle (Jeff) Leach, Gladstone; Cathy DeMars, Milwaukie; her son Ron's sons Randy Eakin, Seattle, Wash.; Ryan (Gina) Eakin, Sedro Woolley, Wash.; sister Nell Meizer; great-grandchildren Marissa, Erica, Trevor, Cynthia, Jason, Alycia, Jacob, Anthony, Tyson, Christopher and Rochelle; numerous nieces and nephews.
She was preceded in death by her husband, four of her five children: Frances Eakin (1943), Leonard Eakin (1969), John Eakin (1975) and Ron Eakin (2006), and her remaining siblings Chet Coats, Ida Rutschman, Anne Beck, Jim Coats, Lois Haskell, and Bill Coats.
The family hosts a celebration of life April 6, at 11 a.m. at First Baptist Church, Grass Valley a luncheon immediately following.
In lieu of flowers, memorial gifts be considered to First Baptist Church P0 Box 26, Grass Valley, OR 97029 or the Sherman County Historical Society. P0 Box 173, Moro, OR 97039.