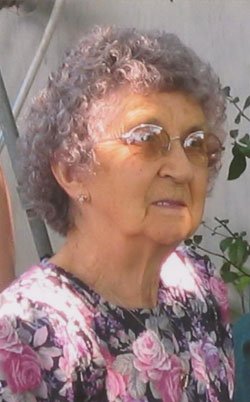 Mildred Carvol Sandvol
The Dalles, Ore.
July 1, 1921 - March 25, 2013
Mildred Carvol Sandvol, 91, long-time The Dalles, Ore., resident, died Monday, March 25, 2013, at a local care facility.
She was born July 1, 1921, on the Fitch farm near McHenry, N.D., the older of two daughters to John Finley and Martha (Mattie) Bennett Finley. She grew up and graduated high school in McHenry.
In 1941 she married Paul Sandvol in McHenry. He enlisted in the U.S. Army in October 1942; this took them to Fort Benning, Ga., and to Camp Gordon near Augusta, Ga. When he left for overseas duty in August 1944 she returned to North Dakota to live with her mother and sister Shirley.
In 1951, the family moved to The Dalles. She worked the lunch counter at Hank Smith's drug store, later taking a job at Davies Drug where she eventually became bookkeeper. She retired from Davies in June 1984.
She is survived by daughters Judell "Judy" Ringo and companion Ernie Piehl, The Dalles; Barbara "Barb" Stinson and husband Ron, Redmond, Ore.; grandchildren, Scott Rone and wife Kris, Monument, Colo.; Shannon Jakoby and husband Gregg, Dillon, Colo.; Jenny Kumm and husband Brett, Tigard, Ore.; Jake Stinson and wife Shelby, Beaverton, Ore.; great-grandchildren Bryce, Alyssa, Peyton, and Trevor Rone, Monument; Kayla and Kelsey Kumm, Tigard; Alex and Maxx Stinson, Beaverton, Ore.; Noah Jakoby, Dillon; and many nieces and nephews.
She was preceded in death by her husband, parents, sister Shirley Thompson and brother-in-law Orville Thompson.
A viewing is planned Friday, April 5, from 2 to 5 p.m. at Spencer, Libby, and Powell Funeral Home. A memorial service will be Saturday, April 6, at 2 p.m. at Spencer, Libby and Powell Chapel.
Memorial contributions may be made to Home At Last Humane Society, 200 River Road, The Dalles, or Heart of Hospice LLC, 205 Wasco Loop Suite 202, Hood River, OR 97031.