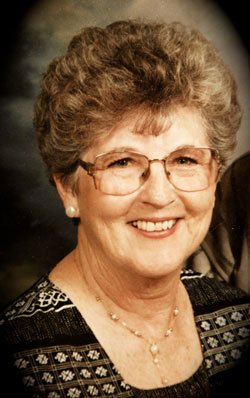 Roseanna "Rose" Hulse
The Dalles, Ore.
February 10, 1927 - March 20, 2013
Roseanna (Rose, Rosie) Hulse, 86, died March 20, 2013, the first day of spring, at a local care center.
She was born Feb. 10, 1927, to Helen Bee Van Patten Macnab and Alexander Macnab as Rose Hannah Macnab. She felt this was a "ragamuffin" name and changed it to Roseanna later in life. She was the 11th of 13 children born to this farming family in Sherman County, Oregon. She attended Rufus Grade School, St. Mary's, and Eastern Oregon College.
She married Russell Kenneth McCullough in 1948. They raised their family in Dufur where she was a member of the St. Alphonsus Catholic Church. They had 32 years together, with four children and two grandchildren at the time of his death in 1980.
William "Bill" Hulse married her in 1983. They traveled the world, spending winters in Arizona, and enjoying their grandchildren's sporting events.
She and her husband moved to The Dalles four years ago, and had most recently moved to Flagstone.
She is survived by her husband, Bill Hulse; brother Pete Macnab; children Kenn McCullough, Laurie (John) Williams, Mary (Greg) Knutson, Kevin (Kathy) McCullough, step-children Dave (Vera Randall) Hulse, Mary (Doug) Brown; grandchildren Heather (Greg) Gallagher, Noah (Tanya) Williams, Kyle McCullough, Kris (Erica) McCullough, Kasey McCullough, Alex Zalaznik, Darcie Eckert, Colt McCullough, Darah (John Gellette) Hulse, Dana (Mark) Palmer, Ryan Plieth; along with twelve great-grandchildren.
Mass will be at Saint Peter's Catholic Church Saturday, April 6, at 10:30 a.m., with the Rosary Friday, April 5, at 6 p.m. at Spencer, Libby and Powell in The Dalles. In lieu of flowers, donations may be made to Providence Hospice of the Gorge, 751 Myrtle Street, The Dalles, Oregon 97058; St. Alphonsus Altar Society, PO Box 395 Dufur, Oregon 97021 or St. Mary's Academy 1112 Cherry Heights Road, The Dalles, 97058.