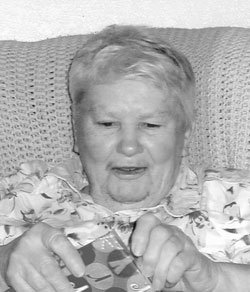 Sharon Louise Hazen
The Dalles, Ore.
February 17, 1935 - March 22, 2013
Sharon Louise Hazen, 78, a longtime resident of The Dalles, Ore., died at home Friday, March 22, 2013.
She was born Feb. 17, 1935, in The Dalles, Ore., the only child to Ralph Walter and Merle Eugenia (Rivers) Hazen. She was raised and educated in The Dalles, graduating from The Dalles High School in 1953. She earned a bachelor of arts degree from Whitworth University and a bachelor of education degree from Eastern Oregon University. She also earned a degree in forestry.
She worked for many years in fruit packing plants for Diamond Fruit and Duckwall Pooley. She had also taught physical education. She also maintained people's yards and gardens for income. She had also worked at Simplot Potato Plant in Idaho and at a Forest Service Lookout in Oregon.
She had been a Master Gardener for 23 years and a Master Gardner Seed and Soil instructor. She was a member of Calvary Baptist Church, the Salvation Army and had been a camp counselor with the Girl Scouts.
She is survived by her close friends, Nancy Finerty, Loyce Goodman, Marjorie Harmon, Sheila Bryan and Gladys Bright, all of The Dalles; Arlene Gilderhus, White Salmon, Wash.; and several cousins.
Services will be April 9, at 11 a.m. at Calvary Baptist Church. A potluck reception will follow. Sharon loved all outdoor plants, especially red, white or blue. Potted plants are preferred and will be planted on her property.
Contributions to help with final expenses may be made to the Sharon Hazen Donation Fund at Rivermark Community Credit Union- Acct # 1509220-29, 1240 West 6th, The Dalles.