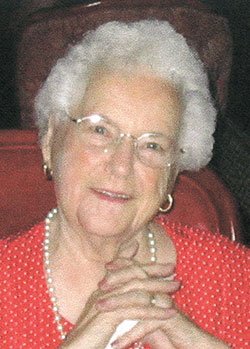 Margaret Nagel Johnson
Hood River, Ore.
January 11, 1920 - April 22, 2013
Margaret Nagel Johnson, 93, died April 22, 2013, the day of her husband Wilbur's birthday, at Hood River Care Center.
She was born Jan. 11, 1920, in Appleton, Wash., and raised in rural area, where she acquired her homemaking skills. After she married Wilbur M. Johnson on July 26, 1940, at the age of 20, she cooked for many years for wheat and hay crews, while farming on High Prairie. The farm was adjoining her husband's parents' farm, and they raised pigs, cows and chicken, as well as 400 acres of wheat, until her husband's death on July 26, 1986. She moved to Lyle in 1984, where she lived until experiencing a stroke in 2012.
She loved to can, making jams and jellies, which she entered in county fairs, where she won scores of ribbons. She also loved to crochet, entering her work in Grange competitions.
She was the neighborhood and family supplier of canned pickles, salmon, sauerkraut, green beans and Halloween popcorn balls. After her mother died in 1957, she and her husband hosted the annual Easter Reunion for their clans over several decades.
She is survived by two sons, Keith Johnson and his wife Jackie, Lyle, Wash.; and Duane Johnson and his wife Janet, Hermiston, Ore.; granddaughters Amy and her husband Chad Haggerty, Stacie and her husband B.J. Roberts, and Kelly Johnson; great-granddaughter Zoey Roberts; and great-grandson Paytonn Haggerty.
She is the last member of her generation. She was preceded in death by her brother Louis Nagel; sisters Evelyn Schurtz, Elizabeth Syvertsen, Adeline Sorenson and Marjory Gregory, her twin sister.
Her ashes will be interred at the Pleasant Hill Cemetery in Appleton, along with her husband.