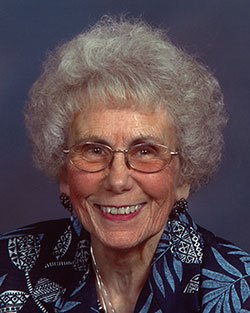 Evelyn J. Russell
The Dalles, Ore.
March 3, 1926 - October 23, 2013
Evelyn Janice (West) Russell passed away on Wednesday, October 23, 2013 where she resided at Cascade Senior Care in The Dalles, OR. She was 87 years old. She was born to Dewey and Althea West on March 3, 1926 in Arlington, OR.
The family then lived in Pendleton, OR for a time, also at the homestead ranch at Rock Creek out of Arlington, Willow Creek, also outside of Arlington, a short time in The Dalles during Evelyn's freshman year at The Dalles High School and finally back to Arlington where she graduated from Arlington's High School in 1944. After graduating, she worked for the town's telephone company as a switchboard operator.
During her teenage years, Evelyn enjoyed going with friends to many dances. It was at one of those dances on New Year's Eve, 1945, that she saw the handsome Dale Russell from Boardman, OR, who had just returned from overseas serving his country during WW2 in the army. From that evening on and sealed with a kiss, they began dating. They were engaged by March and Married on October 5, 1946.
Dale worked for the railroad in those days, and for a time they lived in Boardman's train depot. They also ventured up to the Mount Hood area and lived at the "Lazy K Skyline Ranch" where Dale worked his new skills in Pear Orchards. Tragically, the ranch house burned down, which forced them to leave their beloved ranch and mountain.
Eventually, Dale and Evelyn, and by then their two young sons, moved on to The Dalles. They settled in to their new life and welcomed the birth of their daughter. They also began attending Calvary Baptist Church. Evelyn grew to love the Lord Jesus and her church family. She served by teaching children's Sunday school for some years and then became very active with the Church's hospitality and kitchen work. Cooking and providing meals and making events special were some of Evelyn's passions in ministry. She loved putting on luncheons or just joining her friends for luncheons.
Dale and Evelyn really enjoyed trailering with family and friends from church. She joined "The Deep Enders" water aerobics class at The Dalles fitness club, and she loved the work out and social time. She also enjoyed going to the Senior Center and its Tuesday Night's music and loved the new friends that she made there.
In 1995, Evelyn lost the love of her life Dale Russell, but then in 1999, God blessed her again with the love of another man, Hank Locy. She was a wonderful and beautiful wife and mother. It was her joy and delight to create beauty and comfort in her home for her family and for anyone who came to visit. We all miss her very much.
Evelyn is survived by her sons Dan Russell, Steve Russell (wife Cindy) all of The Dalles; daughter Dalene Pollman (husband John) of Randle, WA; grandchildren Leah Russell and Anders Pollman (wife Kacey), great grandsons Jordan Russell and Logan Pollman. Also surviving are sisters Shirley Donovan of Boardman, OR, Lois Gill (husband Ed) of Arlington, OR; brother-in-law Vern Russell (wife Barbara) of Boardman, OR; many cousins, nieces and nephews.
She was preceded in death by her parents, Dewey and Althea West, husbands Dale Russell, and then Hank Locy and her brother Dewey West of Boardman.
Please join us as we celebrate Evelyn's life on November 23, 2013 at Calvary Baptist Church, 3350 Columbia View Drive at 11:00 in The Dalles.
In lieu of flowers, donations may be sent to Providence Hospice of the Gorge or Calvary Baptist Church of The Dalles in honor of Evelyn.

Services for Evelyn J. Russell
November 23, 2013

Celebration of Life: 11 a.m.