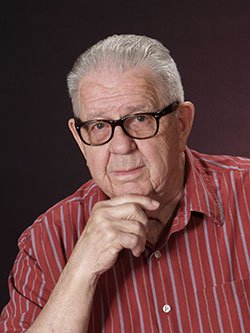 Arthur L. Schafroth
The Dalles, Ore.
June 22, 1925 - October 22, 2013
Arthur Louis Schafroth (Art) died at the age of 88 on Tuesday, October 22, 2013 at Meridian Park Medical Center, Tualatin, Oregon. Art had been a resident of The Dalles until moving to Rose Linn Vintage Place in West Linn in August.
Art was born June 22, 1925, in Enid Oklahoma to Walter Lloyd and Adah Schafroth. He was one of five children. He grew up in Enid and later moved with the family to Ames, Iowa. He married Alice Jeanette Jeffries (Jane) on June 26, 1948 in Corvallis, Oregon.
Art, his wife and four children lived in various places in Iowa, Colorado, Oregon and Minnesota. He worked in sales, building trades, and as a technician in the Department of Horticulture at Oregon State University in Corvallis.
Growing up in Enid, Oklahoma, Art learned to love fishing as a child at his family's Minnesota lake cabin and continued to fish all his life. In the 1970's he and son Steve purchased a boat in Newport, Oregon where he commercially fished for salmon on the Pacific Ocean. His love of the water and fishing continued after retirement when he and Jane moved to a Minnesota lake home. They later returned to Oregon to live in The Dalles on the Columbia River.
Art will be remembered as a man who loved his family and was always planning how they could spend more time together. Though he was a feisty character, he was also a charmer with a big smile and hearty laugh. He was a jack of all trades: fisherman, agriculturist, tinkerer, builder and salesman. He loved playing cards, especially cribbage, and loved winning even more. He was an
adventurous and giving spirit.
Art is survived by his wife Jane and their four children, Stephen and his wife, Colleen Schafroth, The Dalles, OR, Sara (Schafroth) and her husband Allen Shackelford, Wauwatosa, WI, Ellen Schafroth, Ely, MN and Doug Schafroth, Ely, MN; six grandchildren, Elizabeth Schafroth, Chandra Shanahan, Sarah Olson and her husband, Ryan, Mary Shackelford, Nathan Shackelford, and Jacob Shackelford; 3 great-grandchildren, Zoey Schafroth, Caitlin Shanahan and Grant Olson; his sister Shirley O'Connor; and brother Clair Schafroth. He was preceded in death by his parents and brothers, Robert and Donald.
A memorial service will be held on Saturday, November 9, 2013 at 11:00AM at St Paul's Episcopal Church, 1805 Minnesota St., The Dalles, OR. In lieu of flowers, memorial gifts may be made to the Men's Group at St. Paul's Episcopal Church for giving to charitable causes in his name, including, but not limited to donations of sheep & other farm animals for people in third world countries.
Services for Arthur L. Schafroth
November 9, 2013

Memorial service: 11 a.m.