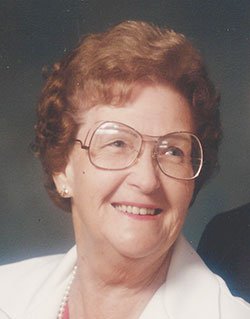 Florence Ethel Peetz
The Dalles, Ore.
July 29, 1922 - October 27, 2013
Florence Ethel Peetz died Sunday, October 27, 2013 in The Dalles, Oregon. Florence was born in Dayton, Oregon, July 29, 1922 to Lewis O Wing and Rachel R Chapman Wing.
Florence met and
fell in love with Arthur E. Peetz while he was working for her father on their small farm near Tygh Valley, Oregon. They became husband and wife on July 26, 1941 and had a loving marriage that lasted until Arthur died almost 64 years later. They had two children, a daughter, Beth Elaine born in 1942, and a son, Lawrence Arthur, born in 1945.
After Arthur returned from WW II, he and Florence moved their family to Wamic, Oregon, where they joined Florence's sister Dorothy, and her husband William, who was Art's brother, to form a ranching partnership that lasted over 30 years.
Florence loved her many crafts, such as flower pressing, ceramics, and crocheting. She hand-made all of her children, grandchildren, great nieces and nephews Christmas ornaments every year for many years. These ornaments always have a special place on their trees.
She also enjoyed the many fraternal organizations she was a part of. Florence was a 60 year member of the Rebekah Lodge. She was a long-time member of the Tygh Valley Garden Club and volunteered for many years as Flower Superintendent at the Wasco County Fair. In addition, Florence was a member of the Cowbells, Good Sam Club, Beta Sigma Phi and many other organizations. She and Arthur also spent much of their time traveling to their grandchildren's many sporting events…not sure they ever missed one!
Florence leaves behind her son Lawrence Arthur (Joyce Peetz), grandchildren Debi Ashley (Dick Baltus), Steven Ashley (Julie Ashley), Sarah Ashley, Jeff Roderick, and Greg Roderick. Great-grandchildren, Henry, Andrew, Isabelle & William Ashley, Rikki Baltus, Veronica Roderick, Joshua & Isabelle Roderick; numerous nieces, nephews and friends. Her husband, Arthur Edward, her parents, sisters Dorothy Peetz & Helen Vertz, and her daughter Beth Elaine preceded Florence in death.
Graveside services will be held at Park Lawn Cemetery on Thursday, November 7 at 1pm. Honorary Pallbearers are Bob Peetz, Mike Ward, Fred Justesen, Jon Justesen, Rocky Webb, Steve Ashley and Dick Baltus. Family and friends will gather to share memories at a luncheon immediately following the graveside services at the Fireside Room of the Civic Auditorium. In lieu of flowers, memorials may be made to the Celilo Cancer Center Fund at Mid-Columbia Health Foundation to help breast cancer patients.

Services for Florence Ethel Peetz
November 7, 2013

Graveside service: 1 p.m.