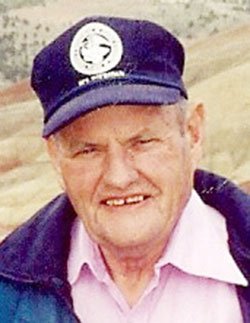 Byron "Swede" O. Stark
Kent, Ore.
April 10, 1922 - November 4, 2013
Byron O. 'Swede' Stark, 91, a resident of Kent, Oregon died at home Monday, November 4, 2013.
Byron was born April 10, 1922 in Grass Valley, Oregon, the youngest of nine surviving children to Samuel and Kathryn (Hackelman) Stark. He was raised and educated in Grass Valley, attending Grass Valley Grade School and graduating from Grass Valley High School in 1938. Byron served in the US Navy during World War II for six years as a Radioman. On June 28, 1947 he and Dorothy Anne Barnett were married in Goldendale, Washington.
Byron lived on two farms in Kent, the last one for the past fifty-one years. He enjoyed being a father, grandfather and great grandfather, farming, horses and sports, particularly baseball.
He was preceded in death by his wife of sixty-five years in 2012.
Byron is survived by his son Terry Stark of Tygh Valley, Oregon; daughter Kathy Stark of Eugene, Oregon; grandchildren Shawn Beam of Grass Valley, Oregon and great grandchildren Kylee and Taylor Beam, both of Goldendale, Washington.
A Memorial Service will be held on December 8th at 2:00 p.m. at the Grass Valley Grade School followed by a reception at the Grass Valley Pavillion.
Memorial contributions may be made to Hospice of the Gorge or the Sherman County Museum.

Services for Byron O. Stark