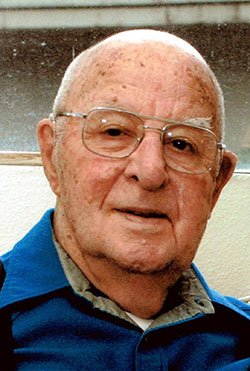 Donald M. Hall
The Dalles, Ore.
November 30, 1921 - November 3, 2013
Donald Minion Hall, a resident of The Dalles, Oregon died November 3, 2013 at a local care facility. He was 91 years of age.
Don was born November 30, 1921 in The Dalles, Oregon to Archibald and Myrtle (Ziegenhagen) Hall. He was raised and educated in The Dalles, graduating from The Dalles High School in 1939. On May 15, 1943 he and Elpha (Pete) Remington were married in The Dalles.
The majority of Don's career was working as an automotive salesman. In his early years he was employed with Stadelmans Fruit Company, Hudson House and Sunset Motors. In 1959 he purchased a car dealership in Milton-Freewater, Oregon and established the Don Hall Ford Dealership.
In 1968 he sold the dealership and worked for Pollard-Powell GMC for another year before moving back to The Dalles to take care of both their parents. Don continued to sell cars through Ray Schultens Ford in The Dalles until his retirement in 1983 at the age of 62. Don was active in the community. He was a member of The Dalles Traffic Safety Commission, The Dalles Rodeo Association, the Lions Club, Mid-Columbia Medical Center hospital volunteer, Chamber of Commerce (Milton-Freewater and The Dalles) , Camp Fire Girls (Milton-Freewater), Elks Club, The Salvation Army, The Dalles Fire Department, Engine Captain II volunteer for 17 years, Sorosis Park Rest Room restoration committee, Wasco County Fair Board and Red Cross Blood Bank volunteer.
Don had been awarded many special awards for his volunteer work; he received the Seaton Award in Milton-Freewater for Camp Fire Girls (he helped established a tri-county girls camp), The Dalles Lion of the Year 1987, 1997-1998, The Dalles Lions Sight and Hearing Fellow, 1996, Awarded Life member of The Dalles Chamber of Commerce, 1999. Awarded Life member of in B.P.O.E. The Dalles Lodge, in 1986, Oregon Traffic-Safety Award 1996, Roy Pugh Award 1987, Co-Grand Marshall in 1996 with wife (Pete) for Fort Dalles Rodeo and Parade and was awarded A.C.T.S. of Oregon 1996 outstanding service on the ACTS Oregon Steering Committee and Board of Directors.
Don was preceded in death by his parents Archibald and Myrtle Hall, one brother Bud Eugene Hall and a sister Zoe Vogel. He is survived by his wife of seventy years, Elpha (Pete) Hall of The Dalles, Oregon; three children, Donald Douglas Hall and his wife Susan of White Salmon, Washington; Gary Eugene Hall, and Peggy Ashford and her husband Harold of Bend, Oregon; four grandchildren John Hall and his wife Jusenta; Kevi Berger and her husband Eric, Teresa Louise Ashford and and Kathryn Ann Ashford and her fiancé Bradley Mazzola. Six great grandchildren also survive.
A Celebration of Life Service will be held Monday, November 18, 2013 at 1 p.m. at Spencer, Libby and Powell Funeral Home, 1100 Kelly Avenue. Internment will be at the I.O.O.F. Cemetery on November 19 at 10 a.m.
The family would like to thank all the nurses, staff and Dr. Clark at Mid-Columbia Medical Center for their support and care during this difficult time. Also, a special thank you to everyone at Cherry Heights Retirement Center for their loving care over the years.
Memorial contributions may be made to the Lions Eye Bank of Oregon, 1010 NW 22nd Avenue, Portland, Oregon 97210.

Services for Donald M. Hall
November 18, 2013

Celebration of Life: 1 p.m.