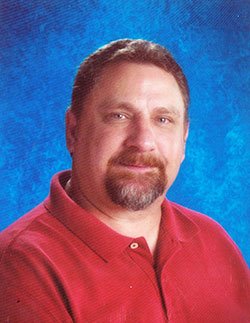 Richard James Eddy
The Dalles, Ore.
October 22, 1960 - September 27, 2013
Richard "Dick" Eddy, 52, died Sept. 27, 2013, at his home surrounded by family and friends.
He was born Oct. 22, 1960, in Ontario, Ore., the second of five children to Nicholas John Eddy and Myrtle Mae (James) Eddy.
He married Sherry Whatley in 1981 and they had two children, Jaron and Chelsea.
He attended schools in Rainier, Ontario and Huntington, Ore. He graduated from Eastern Oregon University in 1979 with bachelor's degree in education. He received his master's degree from the University of Portland in 1996. He started his teaching career in 1983 in The Dalles, Ore., and continued with the school district until his retirement Sept. 1, 2013.
In July 2004, he married Susan (Lacock-Harjo) Eddy and they resided in The Dalles. He was a member of the First Christian Church, the OEA, DEA and the D21EA. Hobbies included fishing, hunting, woodworking, cooking, rafting on the John Day River and spending time with his grandchildren. He coached middle school football and wrestling.
He is survived by his wife Susan; parents Myrtle James, La Grande, Ore.; and Nicholas Eddy and Susie Eddy, Vale, Ore.; daughter Chelsea, Gresham, Ore.; son Jaron, The Dalles; step-son Erich and wife Danica Harjo; grandchildren Hailey, Tyson and Julie Harjo, Hood River, Ore.; in-laws Herb and Millie Lacock, The Dalles; four siblings: sister Debby Richardson and husband Mark, Gresham; sister Dee Miller and husband Louis, Stevensville, Mont.; brother David Eddy and wife Sunshine, brother Dan Eddy, La Grande; La Grande; and step-sister Ronda McPhetridge and husband Randy, Moses Lake, Wash. Numerous nieces, nephews, cousins, aunts and uncles also survive.
He was preceded in death by infant brother Samuel and step-son Justin Harjo.
Memorial services will be Oct. 12, 1 p.m., at Gateway Presbyterian Church.
Memorial contributions may be made to Wonderworks Children's Museum, PO Box 355, The Dalles, OR.
Services for Richard James Eddy