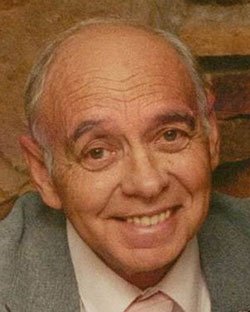 Russell Edgard Sinclair
Tygh Valley, Ore.
April 9, 1923 - October 1, 2013
Russell Edgar Sinclair, 90, of Tygh Valley, died Tuesday, October 1, 2013.
Russell Sinclair was born on April 9, 1923 on a farm in Hannibal Missouri to Earnest Edgar and Etta Lee (McNeal) Sinclair. He was the second child of seven in a poor family struggling to survive the Great Depression. As a young child, Russell and his older brother, Gene were required to work long hours on the farm, doing their part in putting food on the table. The end result however produced many childhood memories that he later wrote about in a book. His stories have been a delight to his children, his grandchildren and his great-grandchildren. Also included in the storytelling was his four years of service in the Navy.
The day after the bombing of Pearl Harbor, Russell and his brother Gene, enlisted in the Navy. Basic training for the two brothers was completed at the Great Lakes Naval Training Station in North Chicago. Then, for the first time in their lives the brothers were separated. Russell was sent to Dearborn, Michigan to an aviation mechanics school for three months, while his brother was sent elsewhere. Russell was later transferred to Pearl Harbor where he spent the remainder of his time in the service. Following an Honorable Discharge from the Navy he returned to his hometown of Hannibal.
It did not take long before Russell began to grow restless and unsatisfied. With four years of unspent service pay, due to frugal living, Russell paid cash for a 1941 four-door dodge sedan and started to drive. He landed on Route 66 and drove straight to California. There he met the "girl of his dreams". Wanda Jean Ralls caught his eye and his love forever. They were married on Valentine's Day in 1947. The next chapter in Russell's life story was spent raising four lively daughters and working long hard hours (for he knew of no other way to work). Russell worked at Signal Trucking Service in Los Angeles, California for seventeen years to support his growing family. However, a desire for change hit Russell once again, so piling everyone into his prized 1955 Buick Century the family made the long drive up into the small mountainous town of Butte Falls in Southern Oregon. There he tried his hand at self-employment. Purchasing a small general store in the quirky little logging town was a new challenge for Russell. After six long, grueling years, (his own words) he decided owning his own business was not for him. It was not until he sold the store that he finally found his dream job. With a broom in hand, Russell roamed the halls, gymnasium, and grounds of Butte Falls High School keeping it in ship shape order. He gave the title of custodian honor. With sheer enjoyment and a smile on his face, Russell put in another seventeen years of physical labor. In his 42 years of working, Russell only missed an astounding 3 days of work.
Retirement brought new changes for Russell and Wanda. With some rather insistent prodding from one of his daughters, the newly retired couple left Butte Falls, their friends and church family, to venture to the high desert country of North Central Oregon. Both Russell and Wanda took readily to their new surroundings. Attending Maupin Community Church, making new friendships and developing a loving atmosphere for their children, grandchildren and great-grandchildren to come and visit, the two cultivated their very own piece of paradise located at the end of Shady Brook Road in Tygh Valley. Russell transformed an ordinary piece of rocky, arid land into a rock garden worthy of park status. Even in retirement, Russell was a project man. Thankfully there were enough rocks on his property to keep him busy. Russell is known by all for his incredible work ethic and for his great love, honor, and respect for God, family, and country. His wife and family will miss him terribly.
Russell Sinclair was preceded in death by his parents, Ernest Edgar and Etta Lee of Hannibal, Mo, three brothers, Floyd (died in infancy), Ernest Eugene, James Edward; and one sister, Rosetta May.
Russell is survived by his beloved wife of sixty-six years, Wanda Jean Sinclair of Tygh Valley, OR; one brother, Robert Lee Sinclair of Vicksburg, MI; one sister, Catherine Virginia Jennings. Russell also leaves behind four daughters and three son-in-laws, Linda and Kerry Long, JoAnn and Mike Stratton of Tygh Valley; Marilyn and Russell Paulson of Bend, OR; and Anita Sinclair of Tygh Valley. He is survived by fourteen grandchildren, Laura, Sam, Scott, Tiffany, Stacy, Camy, Grant, Wade, Angel, April, Janna, Jaci, and Clyde; and 19 great-grandchildren.
In lieu of flowers, the family is requesting that you bring a rock. Donations can also be made out to Heart of Hospice at 2621 Wasco Street, Hood River, Oregon, or Honor Flight at 1900 NE 3rd Street, Suite 106 #205, Bend, Oregon 97702.
Viewing will be on Sunday, October 6th from 3 - 5 pm at Spencer, Libby and Powell Funeral Home at 1100 Kelly Avenue, The Dalles, Oregon.
Graveside service with Military Honors will take place October 7th at 11:00 am at the Dufur Cemetery in Dufur, Oregon. The Reverend Richard Ralls will by officiating at the graveside, followed by a memorial service at 1:30 at Maupin Community Church in Maupin, Oregon. Kerry Long will officiate at the memorial service.
Services for Russell Edgard Sinclair
October 7, 2013

Graveside service: 11 a.m.