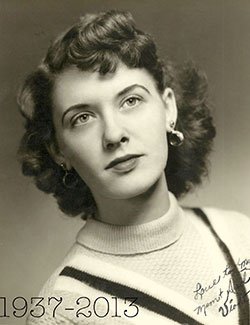 Violet Laneil Morris
The Dalles, Ore.
March 25, 1937 - October 4, 2013
Violet Laneil Morris, 76, died October 4, 2013 in The Dalles, Oregon. She was surrounded by loving family. She was born March 25, 1937 in Leslie, Arkansas. Her parents were Gus and Pauline Kuykendall.
Violet married Charles Morris on March 26, 1954. She worked at The Dalles General Hosptial as an Surgical Technician.
She enjoyed knitting, sewing, making jewelry, basket weaving, gardening, baking, and quilting, making sure each of her children and grand children received a quilt especially crafted by her.
She was a loving mother and wife to Charles Morris, husband and six children, Sherry DuFault, daughter, Sacramento, CA; Chuck and JoDee Morris, son and daughter-in-law, Troutdale, OR; Ben and Kim Morris, son and daugher-in-law, San Diego, CA; Toni Gardner, daughter, Bend, OR; Neda Vipperman and James, daughter and son-in-law, Redmond, OR; and Bonnie and Steve Walters, daughter and son-in-law, Anchorage, AK, along with 11 grand children, 7 great grand children, and 1 great great grand child.
A Celebration of Life will take place on
October 10, 2013 at the Riverenza, 401 E. 10th St., from 5 p.m.-
8 p.m.
Services for Violet Laneil Morris
October 10, 2013

Celebration of Life: 5 p.m.