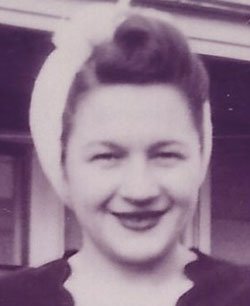 Marguerite Louise Nearing
The Dalles, Ore.
December 12, 1924 - September 23, 2013
Marguerite Louise "Maggie" Nearing, 88, a resident of Clackamas, Ore., died Wednesday, Sept. 23, 2013, in The Dalles, Ore.
She was born Dec. 12, 1924, in Veblen, S.D., the third of six children to Logan and Veronica (Krista) Everett. She was raised and educated in South Dakota, graduating from Veblen High School in 1942. On June 14, 1944 she and Oral Nearing were married. He died in 1995.
She enjoyed playing pinochle at the senior center, observing and interacting with children playing and telling stories. Some of her fondest memories were of leading crews of kids in the berry fields in the 1960s and 70s. Being surrounded by family was important to her.
Survivors include her children, Thomas Nearing, Timothy Nearing, Robert Nearing, Paul Nearing, Mary Carol, Barbara Nearing, Peggy Beall, Lori Lindsay; grandchildren, Robert, Jeanette, Casey, Patrick, Erin, Lisa, Allison, Jeremy, Samantha, Hailey, Veronica, Bailey, Jessica, Shelby, Mandy and great-grandchildren, Avari, Ellie, Eva, Logan, Keira, Parker and Gabriel.
She was preceded in death by her husband Oral and children Wayne Dennis Nearing, Shannon Nearing and James Nearing.
A memorial celebration with family and friends will be Sunday, Oct. 13, at 1 p.m. at 14880 SE 117th Avenue, Clackamas, Ore., a private residence. In lieu of flowers donations may be made to the Oregon Food Bank or Ronald McDonald house for families of sick children. RSVP to lorilindsay43@gmail.com.

Services for Marguerite Louise Nearing