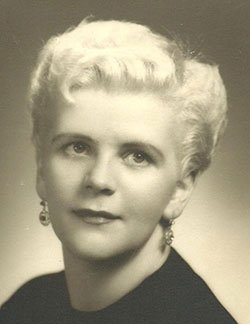 O'Donna McBride
Greeley, Colo.
unknown - October 7, 2013
O'Donna McBride died October 7, 2013, in Greeley, CO, at the age of 82 from natural causes.
She was born to Lawrence and Zelma Anthony in Canyon City, CO in 1931. As a child, she moved to Oregon where she lived out most of her days. She attended beauty school and worked as a beautician for 45 years. Most of her career she worked at 9th Street Beauty Salon in The Dalles, OR, where she had many friends, clients, and colleagues.
She very much enjoyed reading, knitting and other crafts. She was a devoted mother and grandmother who loved her family very much. She is preceded in death by her parents, Lawrence
and Zelma Anthony; sister Betty McMurry and husband Lester McMurry.
She is survived by her children Michelle Royce and husband Victor of Greeley, CO; son David McBride and wife Kathy of The Dalles, OR; son Mark McBride and wife Debbie of Portland, OR; brother Larry Anthony and wife Mollie of Waldport, OR; 8 grand-children and 8 great-grandchildren.
Cremation provided by Stoddard Funeral Home, after which a private ceremony will be held by surviving family in Colorado; final rest to take place next summer in Oregon.