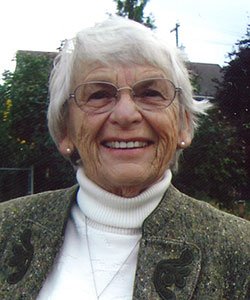 Inge J. Tonn
The Dalles, Ore.
April 15, 1937 - October 14, 2013
Inge J. Tonn passed away on October 14, at age 76. Ingeborg Herma Frida John was born April 15, 1937 in Forst/Lausitz (Lusatia), Brandenburg, Germany, to Fritz and Frida (Stein) John.
In 1945, they were forced to leave their house and home, 15 minutes ahead of the Soviet troops, leaving behind everything except a few pictures and their documents. They were bombed and strafed by Soviet Tiefflieger. They walked 65 miles to the west and ended up in Weissenfels, Saxony-Anhalt.
Inge was baptized and confirmed in the Lutheran Church. She attended the Martin Luther University in Halle, Saxon-Anhalt for one year. Forced to join a sports club learning the use of military arms, she did a daring escape in 1955 to West Germany. She went to Bavaria, Germany, where she had a refugee family. Inge learned to become a bookkeeper. In 1964, Inge and Norman met at Ocktoberfest. Those wonderful Bavarians can drink 2, 3, 4 of those big steins of "suds". Inge and Norman shared one stein… and were "snockerd". It was love at second sight. Inge from Brandenburg (with a few Silesians in the wood pile) and Norman, Lower Saxon heritage, married in 1965. Both children, Fritz and George, were born in Bavaria (Münchner Kindl). In 1968, Inge and Norman came to The Dalles… she loved the weather here and loved the people from the Mid-Columbia region who were so kind and good to her.
Inge was a member of the Gesellschaft für Sport und Technik, Turn und Sport Verein 1865 e.V. Dachau, Verband der Sowietzonen Flüchtlinge, Theatergemeinde Munich, and the Deutscher Alpenverein. In the U.S., she was cub scout leader, a member of the Weed Beaters Garden Club, and a member of the United Methodist Church.
Inge's greatest pleasures were her sons and their families, her wonderful friends of
the "coterie", her wonderful church family of the United Methodist Church, and gardening. She enjoyed traveling, especially to Germany and Austria where she had relatives and good friends.
She is survived by husband Norman, sons Fritz and George and their families, nieces
and a nephew in Upper Bavaria.
A memorial celebration of life for Inge Tonn of The Dalles is planned Saturday, Oct. 26, at 11 a.m. at the First United Methodist Church in The Dalles.
Services for Inge J. Tonn
October 26, 2013

Celebration of Life: 11 a.m.