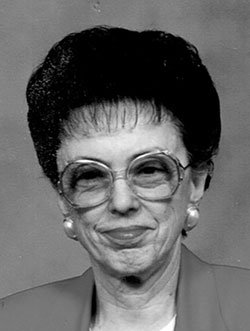 Jessie Underhill
Portland, Ore.
September 21, 1932 - October 16, 2013
Jessie Underhill died Wed., October 16th on a beautiful fall day in Portland, Oregon. She has now joined her parents, Robert & LaVern Berger & her brother, Robert Berger Jr. & his wife Vivian Berger who predeceased her.
She had a strong faith in the Lord and lived that faith every day of her life. The second of three children, she was born on Sept. 21, 1932 in Madras, Oregon. Most of her life, she lived in The Dalles, Oregon, where she met her husband Gerol (Jerry). They were married in 1950 and had 63 wonderful years together. They raised their two daughters in The Dalles and while there, she became a well known music teacher in the area for many years.
She was a pianist, organist, vocalist & choir director and a musician at Calvary Baptist Church and First Christian Church. Until a few years ago, she was an active member of the Oregon Music Teachers Assoc., Music Teachers National Assoc. & Oregon Federation of Music Teachers.
She was also part of the trio, One Accord. They gave many programs in the Mid Columbia area and played often at the hospital. She affected many lives through music, especially her students. She and her sister Janet, were a duo pianist/organist team and played together for many years – at churches, weddings and memorial services, arranging their own music many times. She was also active in the Christian Women's Club in The Dalles serving in many capacities.
In 2007, she and Jerry moved to Portland to be nearer to their daughters, whom she loved and adored.
Jessie fought a brave fight with Parkinson's for many years and died from complications of that disease.
Jessie is survived by her husband, Gerol; her daughters, Pam Kuzmanich (Greg), Sherry Walston (Kirk); her sister, Janet Harmon (Keith), her sister-in-law, Judy Fryer (John), her grandchildren, Jeff, Brent (Jaclyn), Kyle Kuzmanich, Tyler & Alicia Newsom and two great grandchildren, Roxi & Della Kuzmanich, plus many nieces, nephews, and cousins. She brightened our lives with her well spoken wisdom, thoughtfulness, caring, and love. She will be terribly missed.
Public viewing will be at Spencer Libby and Powell, Saturday, October 19, 2013, 10:00-12:00 followed by a public burial at The Dalles on Saturday, October 19, 2013 at 1:00pm at IOOF Three Mile Cemetery.
A public memorial service will be at Sunset Presbyterian Church in Portland, Oregon on November 2, 2013 at 11:00am.
Memorial contributions may be made to the Parkinson's Disease Foundation.

Services for Jessie Underhill