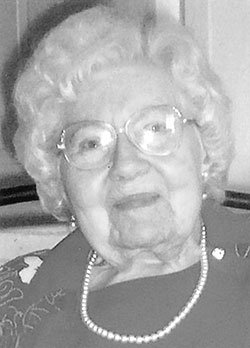 Ardis Marian (Olson) Green
The Dalles, Ore.
October 25, 1912 - October 17, 2013
Ardis Marian Green died Thursday, October 17, 2013 in The Dalles Oregon. Ardis was born in Silverton, Oregon, Oct. 25, 1912, the older of two children to Elina and Andrew Aarhus.
She attended school in Silverton and also took piano lessons, finishing a music course sponsored by her teacher, Mrs. Gertrude Cameron.
Ardis then taught piano lessons for a year until enrolling in Pacific Lutheran College (now University) in Tacoma, Washington. While there, she took piano lessons from Prof. O.J. Edwards and sang in his 'A Cappella Choir of the West.'
After one year, Ardis went back to Silverton to help care for her mother, who needed surgery. In 1935, she enrolled in Mt. Angel Teacher's College (Normal School), graduating in 1936 with a Teacher's Certificate.
That Fall, Ardis began her teaching career - six years in the Willamette Valley.
In 1943, she attended Behnke-Walker Business College in
Portland, after which she gained employment at the Portland Clinic as a clerk and occasional receptionist. She shared an apartment with two dear friends.
Later, Ardis passed the Civil Service exam and began work at Bonneville Covington Substation, 13 miles from Kent, Washington.
In late 1945, Ardis met Robert Woodrow Olson, a commercial salmon fisherman in Alaska. They were married in Kent Lutheran Church, Oct. 12, 1946.
In 1948, their first child, Karen, was born. A month and a half later, the family moved to Petersburg, Alaska where their second child, Lynn, was born in 1949.
In 1951, Robert quit fishing for awhile. He and Ardis bought a farm in the Fifteen Mile (Petersburg) area of The Dalles.
The following year, James Robert was born, and when the children were all in school, Ardis began substituting at Petersburg School, later teaching full-time until she retired in 1974.
On April 10, 1981, Ardis married Morris Milton Green. They spent most winters in Yuma, Arizona until Morris passed away in Dec. 1994.
Ardis was a member of Zion Lutheran Church, and in her retirement years, belonged to a number of organizations.
Ardis is survived by her daughters and sons-in law, Karen and Ken Dyball of Dayton, Washington; Lynn and Gary Cotter of Dufur; and son and daughter-in-law, Jim and Phyllis Olson of Dufur; seven grandsons and one granddaughter; eight great-grandchildren; and her nephew and niece, Richard and Pat Aarhus. Ardis' brother, Elser Aarhus, passed away in 1988.
Graveside services will be held at IOOF Three Mile Cemetery by Reverend Rourk at 1:00 Friday, Oct. 25th. It would have been Ardis' 101st birthday. There will be a luncheon following at Zion Luthern Church.
Services for Ardis Marian (Olson) Green
October 25, 2013

Graveside service: 1 p.m.