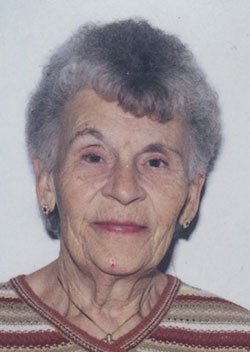 Alma Goeckel
Eugene, Ore.
May 8, 1925 - October 19, 2013
Alma Goeckel, 88, of Eugene, the beloved wife, mother, grandmother, and great grandmother, passed away October 19th from this life onto an eternal life with Jesus. She suffered from Alzheimer's.
Alma was born on May 8th, 1925 in Sofiewka, Romania to Albert and Hulda Lutz. Losing her mother at the young age of 7, taught her to be a hard worker on the farm and throughout her life.
In 1940, due to a political agreement between the German and Russian governments, the family along with all the other German people from that area were taken to Germany and later resettled in Poland. In the bitter cold winter of 1945, Alma, with her family had to flee from the advancing Russian Army and spent two months traveling by horse and wagon ending up in Germany.
On June 10th, 1950, she married Walter Goeckel in Wittlingen, Germany.
They came to the United States in 1954 and lived in Rhode Island, New Jersey, The Dalles, Oregon, and Eugene since 2001.
Alma was a wonderful homemaker and was known for her good cooking and baking. She did some catering for private parties. Some of her hobbies included making ceramics and gardening.
She was a member of Gideons together with her husband since 1975.
She is survived by her husband Walter Goeckel, sons Hanspeter Goeckel (wife Judy), Werner Goeckel (wife Betty), 3 grandsons, 1 granddaughter, and 1 great-granddaughter, 3 step-brothers, and 2 step-sisters.
Memorial contributions may be made to the Gideon International for Bibles in memory of Alma Goeckel.
A memorial service will be held on Saturday, October 26th at noon at the Missionary Alliance Church. 490 Howard Ave., Eugene.
Arrangements by Major Family Funeral Home in Springfield.
Services for Alma Goeckel