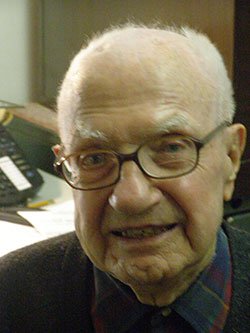 Donald Eugene Heisler
The Dalles, Ore.
December 15, 1913 - October 18, 2013
Donald Heisler, 99, passed away October 18 at the Oregon Veterans' Home just shy of his 100th birthday.
Don was born December 15, 1913 at Dufur, Oregon to Eva Lois (Powell) and Charles Monroe Heisler. He grew up on the family farm in Dufur. He went to school in Dufur, where he enjoyed playing football, graduating at the age of 16. He started college at Whitman College in Walla Walla, Washington, transferring to the University of Oregon his sophomore year. He obtained his BS from the University of Oregon in 1934. He continued there going to Law School, graduating with an LLB in 1936.
He was admitted to the Oregon Bar in 1937 and practiced law in The Dalles from 1938 to 1990. During WW II he served as a Master Sargent in the Army. From 1941 to 1947 he represented Wasco County in the Oregon House of Representatives. In 1947 he was appointed to the vacant post of District Attorney for Wasco County and was then elected and held the office from 1948 – 1956.
During this time he was instrumental in building of The Dalles Dam and The Dalles Bridge. For the latter, he helped get legislation passed at the Federal level as well as in the states of Oregon and Washington. He helped establish the electrical utilities---Rural Electrical Association (REA) and the Public Utility District (PUD) in The Dalles and Wasco County. He also assisted in forming the Chenowith Irrigation District and The Dalles Irrigation District. In addition to his law practice, he had a small cherry orchard near The Dalles.
Don, with his wife, Roberta, enjoyed travelling, playing golf, playing cards, camping, and fishing. He was a member of The Dalles County Club and several civic and service organizations. He was a past president of the Wasco County Pioneer Association and a Wasco County Pioneer of the Year.
On March 20, 1945, he married Roberta (Van Valkenburgh). He is survived by his wife and their children: Stanley Heisler of Connecticut; David Heisler of Bellingham, WA; Suzanne Weissman (Steve) of Albuquerque, NM; Donna Stover (Phil) of Phoenix, AZ; and his grandchildren: Alison Stover (Scott), Benjamin Heisler, and Morgan Heisler. A Celebration of Life will be held at the First United Methodist Church, The Dalles, OR at 11 am on Friday, October 25. In lieu of flowers, the family requests that memorial gifts be made to The Dalles-Wasco County Library Foundation or the Columbia Gorge Community College Foundation.
Services for Donald Eugene Heisler
October 25, 2013

Celebration of Life: 11 a.m.