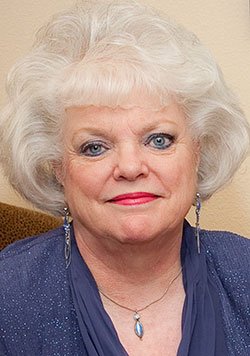 Margaret Anne Baxter
November 4, 1943 - October 22, 2013
A party occurred in Heaven on Oct 22, 2013 when the Lord welcomed His new angel Margie Baxter to His kingdom after a battle with cancer.
Margie was born to Joseph and Frances (Martin) Duvic on November 4, 1943, in The Dalles, OR where she was also raised. Professionally, Margie worked for Home Interiors and Gifts for several years before joining Dillards in 1983. She was a bridal consultant who was well known and loved for her unique, patient, and loving approach to every customer and couple she worked with. A trip to Dillards was always better if you had a chance to visit with Margie.
Margie loved the Lord and loved to sing, and combined these loves as an active member of the First Baptist East church choir. She also helped with numerous church activities and programs, but was known best for her wonderful smile and how she always made people feel special regardless of their current status or situation in life.
Margie is survived by her husband and best friend of 31 years, Bill Baxter; mother Frances (Duvic) Wiberg; sisters Mary Jo Taylor and Carrie Golladay; brother Greg (April) Duvic; son Kevin (Kayce) Lambert; daughter Karen (Mike) Blok; grandchildren Tyler (Landry) Blok, Cameron Blok, Kyel Lambert, Kasey Lambert, Whitney Blok, Kelee Lambert, Melissa (Shane) Bonagofski, Tony Pier; great grandchildren Payton, Miley, and Austin; and numerous nieces, nephews, and cousins. She is preceded in death by her father Joseph Duvic and infant son John Arthur
Lambert.