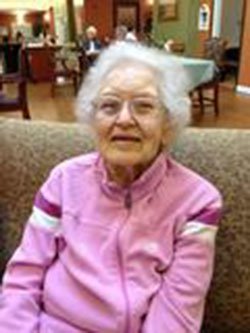 Helenmae M. Duff
Eugene, Ore.
April 6, 1923 - October 6, 2013
Helenmae M. Duff of Eugene, Oregon, died October 6, 2013.
She was born April 6, 1923 in Batesville, Indiana.
After graduation from high school, Helenmae worked for the Stearns and Foster Company and enrolled in classes towards an undergraduate degree in Psychology. That plan was changed when she met her life-long beloved, David A. Duff, a sailor who was the brother of one of her friends. They married May 15, 1945.
After David was discharged from the navy, the couple headed to Seattle, Washington to begin their married life. There they began their family and created life-long friendships. The couple also lived in Spokane, Cascade Locks, McNary, The Dalles, and Eugene, spending over 55 years in The Dalles.
There they raised their daughters and participated in their church community. Mae discovered that she had a passion for the life of faith and the work of 'community'. She was a Lay Leader, and a Lay Pastor in the First United Methodist Church in The Dalles. She delighted in membership in PEO and gave herself wholeheartedly to their mission of education for young women. Mae had a gift for befriending people-particularly young people.
She was a wonderful communicator who faithfully wrote notes, made calls, extended warm hospitality, and proved a listening ear and a tender heart for those who would appreciate those gifts.
Helenmae is survived by her daughters and sons-in-law: Jacquelyn (Duff) and Randy Crowson, and Alice (Duff) and David Houghtaling. Her grandsons Damian, Jason, and Brad Crowson, Paul Houghtaling; her great-grandchildren; her cousins, and the Frisbie family. Helenmae was predeceased by their infant daughter, Janet Elaine, and her husband of 67 years, David Allen, who passed away in January of this year.
Gratitude is expressed to the Alpine Court staff.
We deeply appreciate your caring. Gratitude to the members of The First United Methodist Church of The Dalles-for over 50 years you were 'home and family'. Arrangements entrusted to Murphy-Musgrove Funeral Home.
Please access the obituary, and you are invited to sign the guest book at www.musgroves.com.