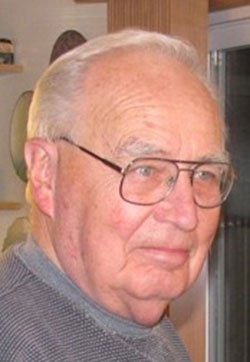 Darrell Lyle Perry
The Dalles, Ore.
January 29, 1931 - October 25, 2013
Born in Baker, OR on January 29, 1931 as the youngest of six siblings, Darrell Lyle Perry died, unexpectedly, at home in The Dalles, OR, on October 25, 2013. Darrell graduated from Baker High School in 1949. He enlisted in the Air Force and served stateside during the Korean War. While working for Bell as a lineman, he strung phone lines from Baker to Pendleton. He and his friends, all pole-climbers, would hold contests to determine who could jump to the ground from the highest point, leading to multiple hip replacements in later years.
He and his lovely wife Pat were married on November 1, 1957, sharing almost 56 years together. After they moved to The Dalles, his other professions included car salesman for the family business and real estate agent.
A social butterfly to his core, he was a member of the Lions and Elks Clubs. If you gave him five minutes with a stranger, he would come home with a new friend. He fondly related stories of treasured moments at the river, Christmas tree hunts (they didn't always bring home trees for fear of being pulled over), and monthly birthday parties, all with treasured friends. Darrell was loyal. He loved to play cards and very rarely got caught cheating.
He deeply loved daughter Lisa and sons Russell, Lyle, and Bill. Grandkids Steven, Mckayla, Tyler, and Nick could do no wrong. Daughters-in-law Dianna (Lyle) and Angi (Bill) each maintain they were his favorite. Everyone will sadly miss his goodbye greeting of "I love you, pal." Notorious for his bad grandpa jokes, his family requests attendees of his Celebration of Life bring their best Darrell joke to share on Friday, November 1, 2013 in the Fireside Room at the Civic in The Dalles at 2:30 pm. In lieu of flowers, his family requests remembrances to the Civic Auditorium Historic Preservation Foundation.

Services for Darrell Lyle Perry
November 1, 2013

Celebration of Life: 2:30 p.m.