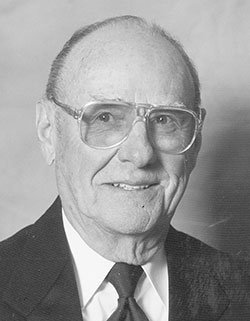 Eugene Charles Smith
The Dalles, Ore.
October 28, 1920 - October 25, 2013
Eugene Charles Smith, 92, passed away October 25, 2013 at home in The Dalles three days before his 93rd birthday.
Charles was born in Inland, NE to Eugene Wilson Smith and Marie Augusta (Schuck). Raised in Fairfield, NE, he graduated from Fairfield High School in 1938, returning for reunions almost every year until the age of 90.
He enlisted in the army on July 24, 1942 and was in the military police in Alaska and California. After completing Officer's Candidate School, he was deployed to Wurzburg, Germany where he was assigned as a new lieutenant to the 151st Medical Ambulance Company.
In 1946, Charles was released from active duty and returned to the US, soon marrying Betty Lou Triplet. Their son Daniel was born in 1947. Charles was called back to duty for the Korean Conflict and returned to Germany to complete 13 years of service.
Once stateside, Charles went to work for the Kellogg-Kelly Seed Company in St. Joseph, MO, returning to his boyhood roots in farming. Following a stint as a restauranteur, Charles owned a Modern Equipment dealership in Gordon, NE. On one occasion, a customer offered a used airplane in trade on a new piece of farm equipment. Ever the adventurer, he made the deal, took flying lessons, and earned his pilot's license, an act that would eventually lead him to his next career choice.
Charles later accepted a job as a farm equipment sales representative with Hesston Manufacturing Company. Headquartered in Kansas, Charles was responsible for the entire Southwest US. His piloting skills allowed him to prosper in the company. Charles and his family later moved to Phoenix, AZ. In the late-1970s, he left Hesston to take a position with a small farm machinery company in California, calling Fresno his home.
In 1981, Charles married Ronica Reitz, a widow with four teenage children in Fresno, CA. The two would operate a grocery store together until retirement. They then began to travel. On one such occasion, they visited Flathead Lake in Montana, fell in love with the area, and purchased the Arrowhead RV Resort.
They operated the campground for 17 years. While there, he was active with the Shriners and in the Masonic Lodge, serving for a time as the Grand Master of the Polson Lodge.
In 2003, they sold the RV park and moved to The Dalles, OR. Charles continued to be active in the Masonic Lodge and Shrine, and became a volunteer at the Oregon Veterans' Home.
He is survived by his wife of 32 years, Ronnie; sons Daniel Smith (Madelyne) and Stuart Reitz (Cyndi Oliver); daughters Lisa Ratusz (Michael), Sherri Sunahara (Frayne), and Lauren Reitz; grandchildren Kelly, Daniel, and Benjamin; nieces Carol Ramirez (Jack), Debbie Buckner (John), Lois Grable (Joy), Janet Kraus (David), Phyllis Colestock (Buddy) and Lola Norton.
The Neptune Society is handling cremation and a Celebration of Life will be held on Saturday, November 2, at the Oregon Veterans' Home (Jean's Room) at 700 Veterans' Drive, The Dalles, OR, from 1:00-3:00 P.M. Light refreshments will be served. The family requests that memorial contributions be made to Providence Hospice of the Gorge, the Shrine Children's Hospital in Portland, or the Oregon Veteran's Home in The Dalles.
Services for Eugene Charles Smith
November 2, 2013

Celebration of Life: 1 p.m.