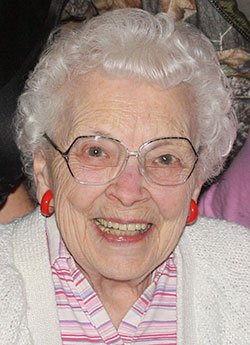 Helen Marie (Clason) Crone
The Dalles, Ore.
unknown - October 24, 2013
Helen Crone, 96, a long-time resident of The Dalles, passed away on Thursday, October 24, at a local care facility. She was born in Rochester MN, in May 1917, to Frank and Ora (Ames) Clason and was the oldest of two children.
She moved west with her family in 1922; first to Cheney WA, home of her maternal grandfather, A.L. Ames, then to Vancouver WA, where her sister Dorothy was born in 1925. The family moved to Portland OR in 1927. Helen graduated from Jefferson High School in January 1935 and later attended Northwestern Business College. She worked at S.H. Kress Co. and later in the office of Meier & Frank Co. She married Arthur W. Crone on Sept. 14, 1941, at her parents' home in Portland. The couple moved to The Dalles in Sept. 1945, where they opened Motor Supply & Equipment Co. on East Second Street.
Over the years, Helen worked at the Ella May Dress Shop, Monahan's Jewelry, and the offices of T.L. Hyde, M.D. and James D. Minnick, O.D. She was active in many volunteer organizations including Cub Scouts, Girl Scouts, PTA, Red Cross Blood Bank, Mid-Columbia Medical Center's Auxiliary where she was a Gift Shop buyer for 20 years, St. Peter's Landmark, the Mid-Columbia Senior Center, Wasco County Library, Wasco County elections, and served on the Board of Director's for the Rorick House.
She was a former member of The Dalles Country Club and of Beta Sigma Phi. She had many hobbies and interests, including sewing, knitting, and tending her roses and other flowers. After the death of her husband in 1989, she traveled with friends to many beautiful and interesting places.
She is survived by her two children, son Richard Crone and wife Elaine of Friend, OR, and daughter Vicki Ann Sallee and husband Bob of The Dalles; four grandchildren, Ed Sallee, Chris McCafferty, Tracee Sallee and Robin Sallee; six great-grandchildren, Helen Nicole and Myah McCafferty, Trevor West, Cole Fox, Kayla and Tiiahna Dupree; two nieces, Janet and Laura Ross; and many special friends.
She was preceded in death by her husband of 48 years, parents, sister, brother-in-law, and two nieces.
Services will be held at 11:00am Saturday, November 2, 2013, at Spencer, Libby & Powell Funeral Home, 1100 Kelly Ave., The Dalles. In lieu of flowers, the family suggests memorial contributions be made to Home at Last, 200 River Rd, The Dalles, or St. Peter's Landmark.

Services for Helen Marie (Clason) Crone