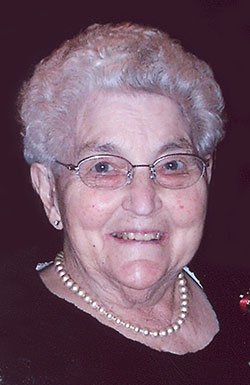 Margie Carrie Gholston
The Dalles, Ore.
December 29, 1921 - August 26, 2013
Margie Carrie Gholston, 91, died Monday, Aug. 26, 2013, at Flagstone Retirement and Assisted Living in The Dalles surrounded by those she loved.
She was born Dec. 29, 1921 in Mosier, Ore., to James R. and Ethel A. (Bailey) Camp.
She grew up in Mosier and enjoyed swimming, hiking and other outdoor activities with her best friend Patty Strauss Wilcox. She loved playing basketball for Mosier High School.
She graduated from Mosier High School in 1939.
In 1947, she married Willis Lynn Gholston in The Dalles, Ore.
She and her husband worked together at the Mosier Post Office. She retired in 1983 and became a volunteer tax preparer AARP, serving the senior community until age 80.
She enjoyed volunteering, reading, traveling, jigsaw puzzles, classical music, spending time with friends and family.
She and her husband were instrumental in organizing the Mosier Meal Site and Senior Center. She was the treasurer for over 20 years.
Her memberships included Mosier Tea Cup Club, The Rebekah's and Mosier First Christian Church.
She is survived by her husband Willis, three daughters Jeanne Reeves and spouse Bill, Mosier; Marilynn Shaw and spouse John, Mosier; and Molli Gholston, Beaverton, Ore.; three grandchildren Todd Reeves and spouse Belenda, Carrie Reeves and spouse Rob Siegle, and Kevin Hager and spouse Teresa, four great-granddaughters Savannah Reeves, Maren and Maggie Siegle, and Abigail Hager.
She was preceded in death by her daughter Marlene Hager in 2003.
Services will be at 11 a.m., Saturday, Aug. 31, at Mosier Grace Bible Church in downtown Mosier, Ore., with a luncheon to follow at Mosier Grange.
Memorials may be made in her name to American Cancer Society, Guide Dogs for the Blind or a charity of choice.
Arrangements are under the direction of Anderson's Tribute Center, 1401 Belmont Avenue, Hood River, Oregon 97031. Condolences may be left online at www.Andersons
TributeCenter.com.
Services for Margie Carrie Gholston